By Terri Clement
Using Woodland Wisdom Oracle
By Frances Munro and Peter Pracownik



Here in the Pacific Northwest the Sprites have been busy bringing us rain, in-between visits from Jack Frost! Winter is definitely in the air.
The beginning of the month is an excellent time for focused and quiet contemplation. Focus on what you want to stay the same and what you would like to be different. This is not a time to go easy on yourself. Be Brutal. If you want a change, make it. Don't sit back and wait for someone else to make things happen. It's up to you. Do it now!

Look for the magic that you have ignoring. Look for the joy in your life and follow that. Make time to play. Live, love, and laugh. It will do you well. Fun is good!

These early days in the year can be highly creative for you. Make notes about your ideas because you can't "do" everything at once. Getting your ideas down on paper will help so that you won't forget them.

Mid month work on letting go of what is no longer working for you. Sort, purge, and let go. Look at your forward path and let go of whatever is not in alignment with that path. Be joyful in the releasing process as this is good!

You may want to step up your daily activity. Try a brisk walk, maybe go swimming at the local pool, or just dust off that treadmill or elliptical and put it to use.

Plan time to meet a friend for lunch!

Towards the end of the month you might want to ask for Faerie guidance. Ask for favors, leave offerings. The Fae are here to help, guide, and entertain.

Revisit your notes from earlier in the month and pick out a project and tackle it. Let your creativity flow.
Travel during this period could be just want you need to re-charge your batteries. If you can not physically travel, then maybe check out some documentaries about the places that you would like to travel to. Or do some creative visualization and visit these places without even leaving your favorite chair.

A nice stone to wear or carry this month is the Amethyst.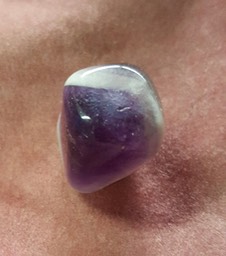 The Amethyst is a strong protective stone. It can help guard against all sorts of harm from psychic attack, and ill wishes from others to electromagnetic stress. It can help calm and balance mood swings, helps get rid of anger, fear, and anxiety. It can help relieve insomnia.

Amethyst helps with boosting metabolism and strengthens the immune system. It can help destroy malignant tumors and cleanse the blood. It can help with headaches and tension and can reduce bruising and swelling.
*Healing properties are not intended to replace the advice of your doctor.


As always, I hope you find that this message from the Fae helps guide you through the ups and downs of this month!! Remember to say a special little thank you to our Fae Friends for the guidance, insight and entertainment!