Companion Guide
Review by Terri Clement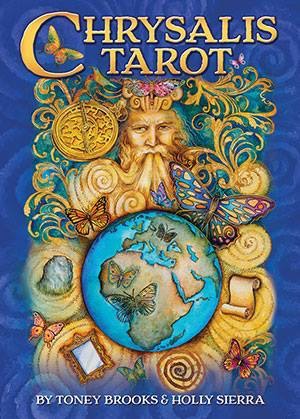 By Toney Brooks and Holly Sierra
Published by U.S. Games Systems Inc.
www.usgamesinc.com
ISBN-13: 978-1-57281-798-2
ISBN-10: 1-57281-798-4

Retail: $12.95
Released 2016
The beautifully illustrated Chrysalis Tarot companion guide is is finally available! The full length book is compact but filled with key information pertaining the Chysalis Tarot.

The 216 page paperback measures in at 5" x 7". There is a delightful forward by Tali Goodwin. The illustrations through out the book are black and white sketches; in Part I they are original sketches done for this book and in Part II they are sketches that later evolved into the artwork for the Chrysalis Tarot.
The book is divided into two parts. The first part delves into magic and energy of the Otherworld and how this guides us along on our journey. The second part of the book takes a closer look at each of the 78 cards in the deck.

This is not a general tarot companion guide or a "how to read tarot" book. The book expands on the mythology and thoughts behind the Chrysalis Tarot deck and also includes artist notes and inspiration. It is a fantastic read for those studying the deck.

If you have the Chrysalis Tarot deck you will find the companion guide a valuable and insightful addition to your collection.


Review copy provided by U.S.Games Systems Inc.