By Sheri Harshberger
The Aeclectic Tarot website and forum are one of the largest (if not the largest) online communities for discussions and learning of Tarot and much more. During January and February of each year, the members vote for decks in two categories: Most Popular of the Year and Most Popular of All Time. The 10 decks with the most responses in each category compromise the "Top Ten Decks Published in (current year)" and the "Top Ten Decks of All Time."
This year's most popular deck (2009) is Ciro Marchetti's groundbreaking Legacy of the Divine Tarot published by Llewellyn Worldwide.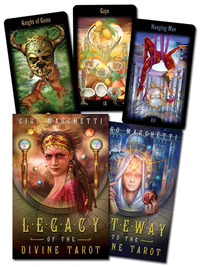 The most popular deck of all time is Patrick Valenza's amazing Deviant Moon Tarot, published by U.S. Games Systems, Inc. and available as a Premier Edition and standard on the U.S. Games Systems website. You can also find it, and much more on the Deviant Moon website, http://www.deviantmoon.com.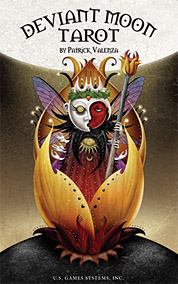 Ciro Marchetti's first Tarot, the Gilded Tarot, with companion book by Barbara Moore has been on the "Top Ten Decks of All Time" every year since the list was started in 2005, and has been ranked on an "Aeclectic Top Ten" list since its release in 2004. The Gilded Tarot is also published by Llewellyn Worldwide and is available as The Gilded Tarot boxed set or as part of the Easy Tarot boxed set.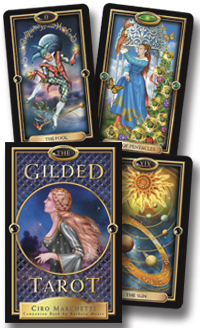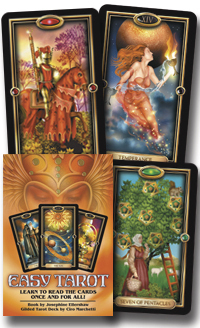 All images used with permission.