By Terri Clement
Using the Woodland Wisdom Oracle published by U.S. Games Systems, Inc.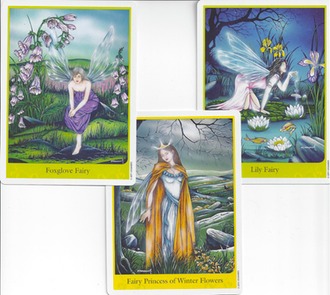 Here in the Pacific Northwest we are finally experiencing some spring like weather. My garden has been expanded triple fold and almost everything is planted. I can hardly wait for things to begin sprouting. I am still waiting for a little more warm weather before I put in the corn and pumpkins though. I am hoping to have that done by the middle of the month.  :D
Let's see what the Fae have to say for the month of May…
The first part of the month you may find yourself faced with some challenging situations.  Try not to over think these things. Quiet your mind and lead with your heart. It doesn't look like a huge change of course is necessary, even if someone else is telling you that is the case. Slow down and listen from the heart. The answer is within. Really all that is needed is a wee bit of balancing. This would be a good time to practice some grounding techniques (try getting outside and putting your hands in the dirt), meditation and/or guided visualization.
The middle of the month proves to be the best time for you to get things done. This is a great time for you to knock several things off of your "To Do" list. Expect a higher energy level during your waking hours and also anticipate sleeping soundly. Just don't forget to eat!
During this same time frame, you might want to consider passing your knowledge along to someone else. This could be a good time to mentor another person or even passing along old family stories.
This also is a good time to examine your personal path and make sure you are still in step with where you are going. Make adjustments if needed.
Toward the end of the month you may feel called to water. You can honor this pull, by visiting a lake, the ocean, a stream or simply scrying into a dark bowl or mug filled with water.  
At this particular time you should expect to feel empowered. You will have accomplished many things throughout the month and have probably added many more things to your list. This is a time to reach, grow and learn. Enjoy!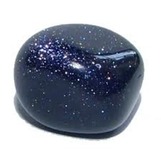 A nice stone to carry this month is the Blue Goldstone.
This is actually a man-made stone. My understanding is that it was created by monks while practicing alchemy. The sparkle comes from flecks of copper. This is the stone of ambition. It aids with courage, positivity and builds energy. It is a gentle but uplifting stone.
As always, I hope you find that this message from the Fae helps guide you through the ups and downs of this month!  Remember to say a special little thank you to our Fae Friends for the guidance, insight and entertainment!
See you again, next month and keep the faith!