Review by Terri Clement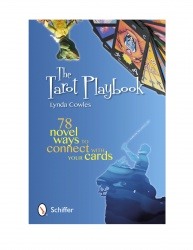 The Tarot Playbook: 78 Novel Ways to Connect with Your Cards by Lynda Cowles
Published by Schiffer Publishing Ltd., www.schifferbooks.com
ISBN:  978-0-7643-3988-2
Refreshingly, The Tarot Playbook is not your typical book about reading Tarot.  The subtitle of this book really captures the essence – 78 novel ways to connect with your cards.  Here you will not find keywords or card meanings, but instead an activity for each of the cards in the deck.  This book is designed to help the reader connect with their Tarot deck in a creative way through play instead of study.
With The Tarot Playbook, Lynda Cowles shares her humorous and engaging writing style throughout the 176 pages.  The paperback book is fully illustrated with beautiful and colorful photographs.  The way the book is set up, you could simply go through each activity sequentially or you can jump around as each entertaining activity is a stand-alone activity.
The book is broken into 4 different sections of activities such as:  Part Two – Stepping Out:  14 Ways To Mingle With the Minors and Part Four – Just My Archetype:  22 Ways To Make It With the Majors.  In the back of the book, you will find what the author refers to as "Playlists" which are quick reference guides to 52 activities in the book that will work well with non-scenic pips and a card index. Physically, the book itself is rather large and a bit heavy and as I don't like to break spines of paperbacks, I did find the book a little difficult to hold.
The first activity that caught my attention was the Chariot's "Taroga."  This is a combination of Tarot and Yoga.  (I can't wait to try this with one of Ciro Marchetti's decks (Insert very big grin here))!
Another activity that looks like a lot of fun is the Page of Wands "Excuses why you could not go to work today."  This could be amusing to do with a group.
The Tarot Playbook would be a great addition to any Tarot enthusiast's bookshelf from the historian who would like to try something new and different, to the professional reader who is looking for something fun to do with clients, to the brand new reader looking for an innovative way to find a connection to their Tarot deck.  There are activities that can also be done with children to help them with creative thinking.