By Terri Clement
Using The Heart of Faerie Oracle by Wendy and Brian Froud.
The beginning of this month has me planning out my fall/winter garden. I have been ill and unable to put those plans into motion.  Now that I am feeling a little more human, I hope to get out in the dirt this week. The weather here in the Pacific Northwest has been very nice, not too hot, not too cold.  I also realized this week that I do not have children involved in the local school district anymore as my youngest graduated last spring. This is a very strange feeling after being heavily involved with the school district for the past 17 years to just be finished. On to having more fun, I say!  :D
Let's see what the Fae have to say for the month of September…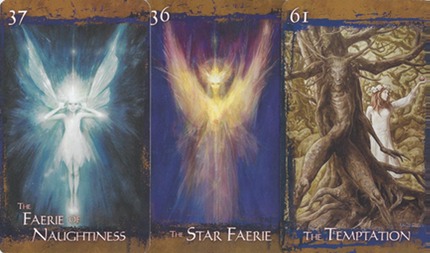 The first part of the month, the Fae want you to tap into your inner child and allow yourself to play with that naughty side of your personality. If you find that puddle, don't resist the urge to stomp in it, if you feel that is what you should do. You may just find this behavior incredibly grounding and it is also a good way to release pent up energy. This can also be a good time to shift your thought process, remember your thoughts can change your world. Be careful what you manifest.
This particular part of the month you may also find yourself losing things, like car keys, wallets, and glasses. Take a deep breath and acknowledge the Fae, ask for your things to be returned and maybe leave some sort of small offering. The item(s) should be returned fairly quickly. They want to play.
The middle of the month is a good time to reach out and make the connections you need. These may be connections with the Fae themselves, social connections, work-related interactions, connections with the Universe and/or your Higher Self, and your connections to your Angels and God/dess. This can also be a wonderful time to spend with close family and friends. This time is all about the associations in your life and realizing that you are never alone as you move forward on your path.
The end of the month brings the changing of the season and for those of us in the Northern Hemisphere that brings on fall. Autumn is truly my favorite time of year. As the Flower Fae settle in for a rest, the Tree Fae are busy at work, helping the trees shift the color of their leaves. It is also a time when we shift from opened windows and air conditioning to closing up the house, turning up the heat and building fires in the fireplace. As you make this shift, be sure you are not closing yourself up to those who are important, too.
This can also be a time of temptation for many. As it gets cooler some of us bake more, some of us don't exercise as often as we should and some of us go deep into our cave preparing for winter. Try to resist this urge. Get outside as often as you can, connect with others and get out and walk (even if this simply means parking in the furthest row from the store).
If you feel you may be falling off course during this time, stop yourself and ask what your heart is really feeling. Remember, you don't have to make a decision right away.  :D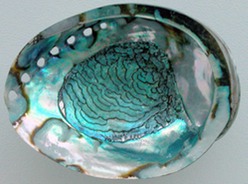 A nice stone to carry this month is Mother of Pearl.
The Mother of Pearl is a protection stone that brings in the gentle healing power of the ocean. It can be excellent for relieving stress as it can be very soothing to the emotions. This is also a good stone for intuition, imagination, and adaptability. It can also calm the feelings of fear. Mother of Pearl can also bring clarity in decision making.
As always, I hope you find that this message from the Fae helps guide you through the ups and downs of this month!  Remember to say a special little thank you to our Fae Friends for the guidance, insight and entertainment!
See you again, next month and keep the faith!