Review by Terri Clement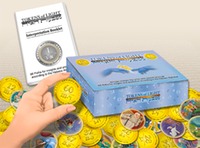 Tokens of Light by Orna Ben-Shoshan
Published by Kabbalah Insights, www.KabbalahInsights.com
Orna Ben-Shoshan and Kabbalah Insights bring us yet another insightful tool with Tokens of Light.  This set provides 66 paths for insight and forecasting according to the Hebrew alphabet.
The set arrives in a powder blue card board box and contains an elegant silver organza drawstring bag, 68 tokens (two of which are designed to be used as amulets) and an 86-page Little White Book.  
The Tokens measure 1 ¾" in diameter, they are printed on stiff card stock with a shiny laminate.  On one side of the token you will find the number of the Token (1-66), a Hebrew letter, a serial code (Alef to Tav) and key words regarding the answer you are seeking, on a gold back ground.  The opposite side of the Token you will find the recognizable artwork of Orna Ben-Shoshan, also on a golden background.  These images relate to the messages from the other side of the Token.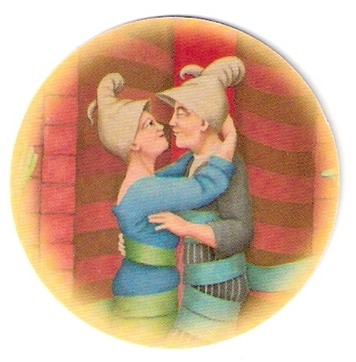 The Tokens are designed to be used with specific questions such as:  "What is the result I should expect?" and, "Will this or that happen?"  They were also useful when asking a general "What do I need to know?"  or, "What should I be focusing on?" type of question.
Token 40 – Nun I - features a man and woman in an embrace.  The key words are "Whatever makes you feel good."  The Little White Book says that this Token is about enjoying life to the fullest.  The LWB also says that the Hebrew letter Nun represents charm and renewal, the light of the soul, strengthening spirit, a sense of health and youthfulness.
The LWB is quite comprehensive.  The guide references the Kabbalistic Book of Creation and how the Hebrew letters influence life along with the principal of free choice.  It also contains sections for the following:  What is the connection between the Hebrew alphabet and personal issues, how the Tokens of Light can help your life, questions you can ask the Tokens, reading the answers, what to do with vague answers, four different spreads, interpretation for each Token and much more.
The Tokens of Light is an easy system to use, but still provides insightful answers in a quick and concise manner.  With the ease of use (simply drawing a Token out of the bag) and the thorough guide book, it can be used by anyone straight out of the box.