Review by Terri Clement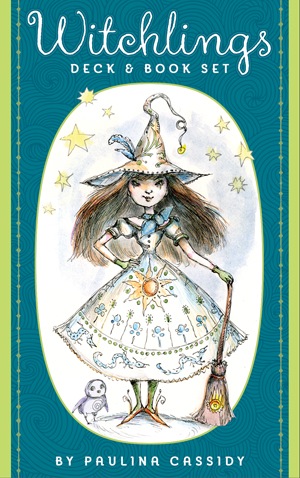 Witchlings Deck & Book Set by Paulina Cassidy
Published by U.S. Games Systems, Inc., www.usgamesinc.com
ISBN:  978-1-57281-667-1
Retail: $21.95 US
Adorable, sweet, uplifting, powerful and witchy! Once again, Paulina Cassidy and U.S. Games Systems, Inc., hit one out of the park!  Witchlings is a deck and book set that is filled with easy spells and magick that anyone can use. It is well written, beautifully designed and well produced.
Witchlings is a 40-card deck with a 204-page black and white illustrated, paperback companion book called Witchlings – Book of Spells.  The set is housed in a heavy duty, lift top cardboard box, which is sealed in plastic. The deck is also sealed in plastic.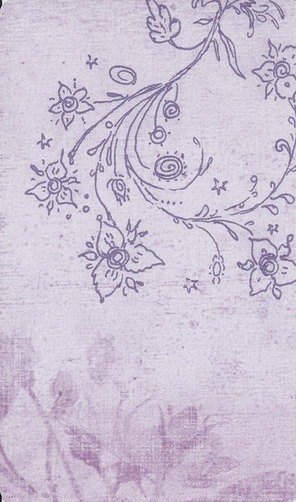 The cards measure 3" wide x 5" tall. The deck does have a new deck smell, but doesn't smell like chemicals. The card edges are a bit sharp, but should soften with use. The borders on the card fronts are 1/8" wide and there are a variety of border colors, from pink, green, blue, yellow, orange and purple. The card titles are top center inside the border. There is a key phrase at the bottom of the card. The card backs feature a floral pattern in shades of purple. The deck riffle bridge shuffles and fans beautifully.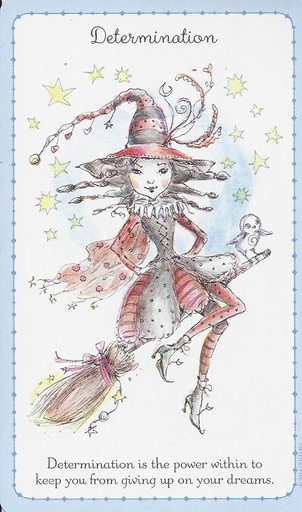 Each image is delightful in Ms. Cassidy's unique styling. All of the images feature a starry background. Orion the owl, the Universal familiar, is present with each Witchling. He serves as a protector, mentor, assistant and friend.
The Determination card features a light blue border with a charming Witchling, named Mimosa. She is wearing muted red and black, perched cross-legged, on her broom. The key phrase says "Determination is the power within to keep you from giving up on your dreams." The Book of Spells has instructions for a sachet and a poppet. It also has a candle ritual and gives directions for infusing a clear quartz crystal with the intention of willpower, determination and achieving goals.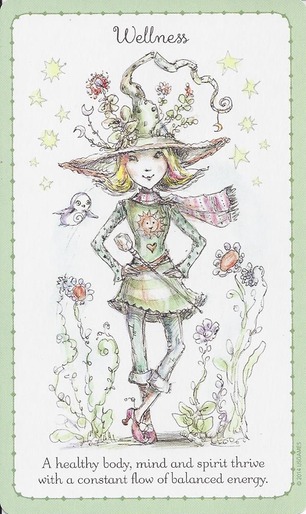 The Wellness card has a light green border, with a blonde Witchling, called Dandelion. She is standing amongst some flowers, dressed in green, wearing a pink and white scarf. The key phrase says "A healthy body, mind and spirit thrive with a constant flow of balanced energy." The Book of Spells gives spells for a Malachite Healing Bath, Healing Bowls, Healing Hematite, and Water of Wellness.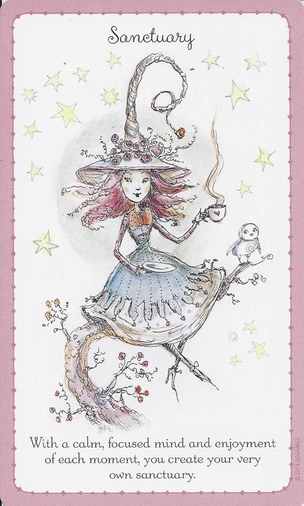 The Sanctuary Witchling named Celandine. This card has a pink border. Celandine has pink and orange hair and is wearing blue and white. She is positioned on a tree branch, holding a cup of steaming hot tea. Her key phrase is "With a calm, focused mind and enjoyment of each moment, you create your very own sanctuary."  The Book of Spells has a Cinnamon Broom Blessing, instructions for a Bell of Protection, a recipe for Home Sweet Home Peppermint Tea, and information for House Smudging.  
The deck is designed to be used as a single card draw or up to 3 cards to use together. Ms. Cassidy suggests drawing a card and working with that particular Witchling as long as needed.
The book provides a list of easy to find Spellcrafting Equipment, information about Candle Color Magick, Gemstone Magick, Herb and Spice Magick, and Essential Oil Magick.
Witchlings can be used by anyone that is interested in learning about magick and wants to keep things simple and straight forward.  This make a nice addition to everyone's magick tool kit.