Review by Terri Clement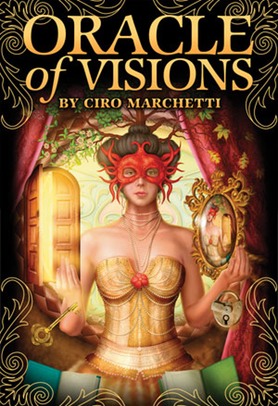 Oracle of Visions, Standard Edition by Ciro Marchetti
Published by U.S. Games Systems, Inc., www.usgamesinc.com
ISBN: 978-1-57281-756-2
Retail: US $21.95
Out of the ball park!! Bravo, Ciro Marchetti (Gilded Tarot, Tarot of Dreams, Legacy of the Divine, and Gilded Reverie Lenormand) and U.S. Games Systems, Inc. Yet again, you have successfully blown my mind! If you are a fan of Ciro Marchetti's work and missed out on the Limited Edition, here is your chance to own one truly fantastic oracle, the Oracle of Visions, Standard Edition.

 As I stated in the review of the Oracle of Visions, Limited Edition,  
While many oracle decks will follow a reoccurring theme (Angels, flowers, dragons, etc.) throughout the deck, the Oracle of Visions takes you through 52 stand alone pieces of art that not only are unique and visually stunning, but each image brings its own dialogue to the table. With this deck, you will not find a common theme so to speak, but instead you will find a vast potpourri of jesters, figures wearing masks, Victorian imagery, nature, mechanical devices and more (Yes, I even spotted a couple of Fae).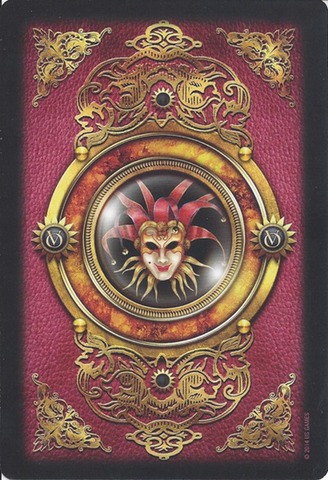 This deck is designed to be used intuitively and if you are ready to take a leap of faith, you might just find your readings moving to the next level.
The card backs are not reversible friendly and feature a jester's mask in the center of what looks like an ornate gold looking glass on a red leather textured background with a thin black border. Non-reversible backs should not be an issue, however, as the card images are designed to be read upright as they do not necessarily fall into a good/positive or bad/negative manner.
The cards measure 3 ¾" wide x 5 ½" tall, made with a slightly glossy finish over flexible cardstock. With the deck being larger than average size, most readers will have to adapt from a riffle-bridge shuffle style. The cards have a very thin black border and the images are outlined in gold, with a card number at the top and a simple but unobtrusive O-V logo on the bottom. You will not find titles or keywords on the cards themselves. Wahoo!!!


The deck and book set is housed in a heavy duty, lift-off top box that will conveniently fit in a purse or backpack.


With so many stunning images, I could not pick which to showcase, so I chose a couple at random.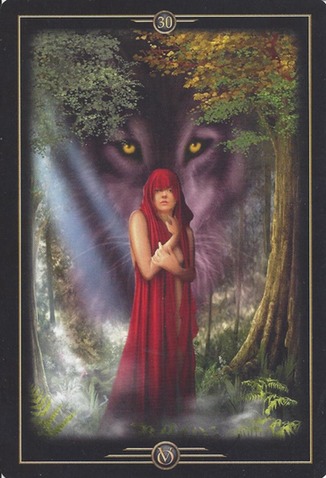 Card 2 – Belonging – Acceptance – Assimilation – This image shows a white haired woman, dressed in silver, wearing a mask making her look like the birds that surround her.  The companion book says, "Our sense of belonging and acceptance by others requires affirmation."


Card 30 -  Danger - Fear the setting of this card is deep in the forest, there is a woman in the foreground wearing only a red hooded cloak, in the background there is the face of a wolf, very much like Little Red Riding Hood.  The companion books says, "In the darkness, our fears feed from us and grow."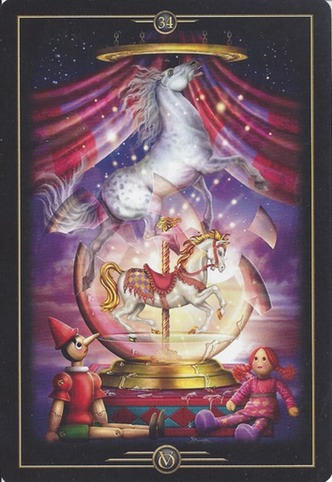 Card 34 – Breaking Free - Chasing a Dream features a dapple gray horse rearing in the back ground with a carousel horse inside of a breaking glass globe.  A puppet and a doll sit in the foreground.  The companion book says, "…a real horse embodying a true inner spirit escapes from a carnival shell…"  And, "We occasionally escape through dreams of what might be, but at some point we may act upon them to the amazement of others."
The companion book written by Ciro is 140 black and white pages.  The book includes a Forward, images and Ciro's personal description and meaning for each card, a brief section on how to interpret cards differently as well as working with combinations.  At the end you will find a background or journey that Ciro has had through Tarot (of which he is NOT a reader) and his approach.
I highly recommend this deck for anyone who wants to work with an oracle that is different than anything you have worked with in the past.