Ed. Note: Emily E. Auger sent the following to us regarding her Tarot in Culture project.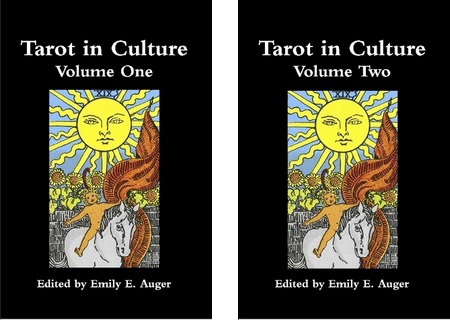 Tarot in Culture, edited by Emily E. Auger with Forward by Rachel Pollack.
Published by Clifford, ON: Valleyhome Books, 2014
Available in hardcover (with jacket), paperback, and Ebook format through Kobo and Lulu.
Tarot in Culture is a well-illustrated (260 illus.), two-volume, multi-author anthology of papers on Tarot. Contributions range from original, in-depth, thoroughly documented studies of Tarot history, art, and literature to artists' statements and other primary source documents. Tarot in Culture is both accessible to the Tarot student and of interest to scholars of other fields, including historians and theorists of art, esotericism, literature, the occult, and popular culture and genres. 
Volume One contributors include Michael Dummett, Helen Farley, Mary K. Greer, Richard Kaczynski, Marcus Katz, June Leavitt, Paul Mountfort, and Robert Place. 
Volume Two contributors include Ed Buryn, Julie Cuccia-Watts, Tabitha Dial, Helen Farley, Joyce Goggin, Mary K. Greer, Bruce Hersch, Brian Johnson, Danny Jorgensen, Jeana Jorgensen, Carol S. Matthews, Christine Parkhurst, Casey J. Rudkin, Leslie Stratyner, Catherine Waitinas, and Batya Susan Weinbaum. 
A list of authors and papers included in each volume, the individual ISBNs, as well as links to the publishing websites are available at Emily's website.