September 2017
By Terri Clement

Using the Woodland Wisdom Oracle Deck by Frances Munro and Peter Pracownik, published by U.S. Games Systems, Inc.
This is that time of when my summer busy-ness is finally slowing down. The canning is almost finished, the freezer is filling. Though I did suffer some loss to the local wild bunny tribe, most of my garden produced fairly well this year. I am pleased. I hope your summer is winding down and that you are looking forward to what autumn is bringing in. 

Let's see what our Fae friends want to share with us for the month of September…



The first part of the month you will find yourself going through some changes. Thoughts and ideas from the past are that they are the past. Now is the time to move forward by letting go of the past. Where ever you feel that you have been holding back, let go and allow yourself forward motion. Ask the faeries to come in and walk (fly) by your side. Aligning yourself with them will help you move forward almost effortlessly.


This is also a time to have that last hurrah of summer. What have you been putting off but have really wanted to do before fall sets in? Do that! Take that last camping trip. Get out to the beach. Take a walk by the river. Have a picnic. Shorter, darker days are coming, so take advantage of the longer days while we have them.


The middle of the month is a time to focus on what makes YOU happy. What you focus on comes your way. This is a time of abundance, fertility, happiness, and freedom; take advantage of it, expect it.


The last part of the month again comes reinforcement from the Wee Folk that it really is time to move on. Your path may no longer be serving you. A relationship may no longer be working. It's time to stop "settling." There are many directions to go and many ways to grow, allow yourself time to explore these and enjoy the happiness that comes to you.


A nice stone to wear or carry this month is Moonstone.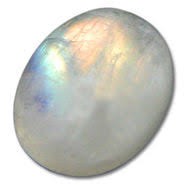 Moonstone is the stone of new beginnings, growth, and strength. It promotes inspiration, success, and good luck in love and work matters.


The Moonstone can help the digestive system. It can help balance hormonal cycles which make it a fantastic stone for PMS, conception, pregnancy, childbirth, and breastfeeding. It is a good stone for conditions of skin, hair, and eyes. *Healing properties are not intended to replace the advice of your doctor.

As always, I hope you find this message from the Fae helps guide you through the ups and downs this month. Remember to say a special little thank you to our Fae Friends for the guidance, insight, and entertainment.