By Terri Clement
Featuring the Enchanted Oracle by Jessica Galbreth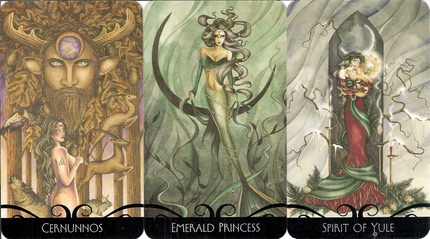 As I write this article, the calendar says fall, but here on the rainy side of Washington State, the weather is feeling more like winter.  I've had to close up the house and turn the heater on for a couple of hours in the morning.  The leaves are just beginning to change from a dark green to a golden yellow.  Out in my garden, there are several pumpkins in a variety of colors: from dark almost black green, to olive green with bits of orange, to bright orange.  I can't wait to carve one!  I absolutely LOVE fall!
Let's see what the Fae have to tell us for the month of October…  The first thing is that even though the weather is shifting to cooler, or in some areas, colder, they want you to know how important it is to still spend some quality time outside.  Bundle up if you have to.  Enjoy the turning of the leaves and what nature has to offer you.  They are also telling us that this month it is a good time to give yourself an opportunity to give in to a few of your "urges."  When you get that push that something is not a good idea, it might be the best thing for you (just be smart about it).  This is a time to let go, enjoy, and indulge.  This is also an excellent month to practice using your intuition, especially with the thinning of the veil.  Remember, like any muscle, it only gets stronger when you put it to use.
Toward the middle of the month you may face a situation where you have to speak up or speak out.  Don't be afraid to let yourself be heard or to ask for you what you need.  This is not necessarily about what you want, but about what you need.  Just don't be irresponsible and wild with this energy, you don't want it coming back to bite you.
Nearing the end of the month, it's time to start thinking about your budget for the holiday gift giving season.  Think about the things that you can make inexpensively;  most people treasure those types of gifts.  Dried apple wreaths, jams, pepper jelly, homemade essential oils, homemade potpourri, or dough ornaments are all excellent, inexpensive gift giving ideas and things that your children can help you with. 

A good stone to wear or carry this month is the emerald.  This is the stone of inspiration and patience.  It is also known as the "stone of successful love".  The emerald opens the heart chakra.  It can be used to treat the sinuses, lungs, heart, spine, muscles and soothes eyes.  It is said to have a detoxifying effect on the liver.
As always, I hope you find that this message from the Fae helps guide you through the ups and downs of this month!  Remember to say a special little thank you to our Fae Friends for their guidance, insight and entertainment!
See you again next month and keep the faith!