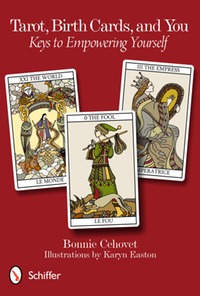 Review by Terri Clement
Tarot, Birth Cards, and You: Keys to Empowering Yourself by Bonnie Cehovet with illustrations by Karyn Easton
Published by Schiffer Publishing, Ltd., www.schifferbooks.com
ISBN: 978-0-7643-3902-8
If you are looking for a enjoyable and different way to work with the Tarot and want to learn more about yourself (or helping clients do the same), through the use of Tarot, you may want to check out Tarot, Birth Cards, and You: Keys to Empowering Yourself by Bonnie Cehovet.  In Tarot, Birth Cards, and You, Bonnie takes us through process of calculating the Major Arcana Birth Card pairs, a concept taught by Ruth Ann and Wald Amberstone from the Tarot School.  Bonnie then gives us several different ways to look at the cards, work with their energy, and how to use positive affirmations from those cards and journeying (meditation/visualization) with the Major Arcana in order to improve self understanding. 
Each birthday will correspond with one of the 12 pairs of Major Arcana.  Those pairings are Wheel of Fortune/Magician, Justice/High Priestess, Hanged Man/Empress, Death/Emperor, Temperance/Hierophant, Devil/Lovers, Tower/Chariot, Star/Strength, Moon/Hermit, Sun/Wheel of Fortune/Magician, Judgment/High Priestess and World/Empress.   
The Birth Cards are determined by adding up your birth date and then reducing that number down.  
For example:
Birthday:  June 22, 1947
  6
 22
 19
 47
94
9 + 4 = 13 = Death
1 + 3 = 4 = Emperor
Once you calculate your personal pairing, you can easily navigate through the book to the section that applies to you, or your client.  This is where the real fun begins.  For each pair Bonnie gives the astrological association, keywords, the combined theme, encouragement for personal empowerment, meanings and questions for each Major Arcana, affirmations that could be used in connection with each card, how to journey with each card, gifts, abilities and challenges that come with each card.  In the back of the book, you will find a quick reference guide and several pages for writing notes.
Using the birth date example above, this person may choose to use the affirmation:  "My heart is open to the new that is coming in." or "I set realistic goals for myself and those around me."
Some questions that person might ask would be:  "What am I attempting to organize in my life?" and "What is my passion in life and why am I not acting on it?"
The book says the following about the pairing of Death/Emperor:
"Death stands in the background, clearing things away, while the Emperor takes a position of leadership, making and implementing decisions."
The beautifully written Journey section is the same for each Major Arcana, with the exception that you are working with a different energy gatekeeper with each card.  Bonnie expertly guides the reader through creating a sacred space, calling on the blessings of the 4 directions and associated totem animal and grounding before taking you into the gateway. 
While there is some duplication for each pairing of Major Arcana in the book, such as the Journeying and How to Work with Gifts, Abilities and Challenges sections, Tarot, Birth Cards, and You is well written and easy to navigate, which the novice through professional will appreciate.  The illustrations by Karyn Easton are striking and follow the traditional RWS symbology.  Whereas this may not be a book that you devour from cover to cover, it provides excellent, clear written framework of reference material that can be used for personal growth or, as mentioned previously, with clients.