A Review by Lalia Wilson
For reasons that are obscure to me, Halloween or Samhain is the holiday most connected with the tarot. To the extent that tarot is about fortune telling, it would seem to be paired to New Year's Eve… But no, Halloween it is. Thus, many decks have a Halloween, Samhain, or Horror Theme. Here's a list, but not complete because this group of tarot decks grows regularly. For now, some of the most well-known decks (some available as apps!) are:
All Hallows Tarot  

Dark Grimoire Tarot  

Deck of the Dead  

Deviant Moon Tarot

Ghosts and Spirits Tarot  

Ghost Tarot

Halloween Lenormand  

Halloween Oracle  

Halloween Tarot

Midnight Madness Lenormand  

Movie Monster Tarot  

Necronomicon Tarot  

Strange Wonders Tarot  

Tarot Card Trick or Treat  

Tarot of Vampyres  

Twisted Tarot Tales

Vampire Tarot  

Vampire Tarot of the Eternal Night  

Wormweird Tarot  

Zombie Tarot  
I'm going to look at these four: the Twisted Tarot Tales, The Deviant Moon Tarot, The Halloween Tarot, and The Ghost Tarot. The one that would be most accessible to young tender readers and clients would be The Halloween Tarot. The one I find most difficult to bring positive meanings to is The Deviant Moon Tarot. The other two lie in between these in their accessibility and usefulness for reading to an average client.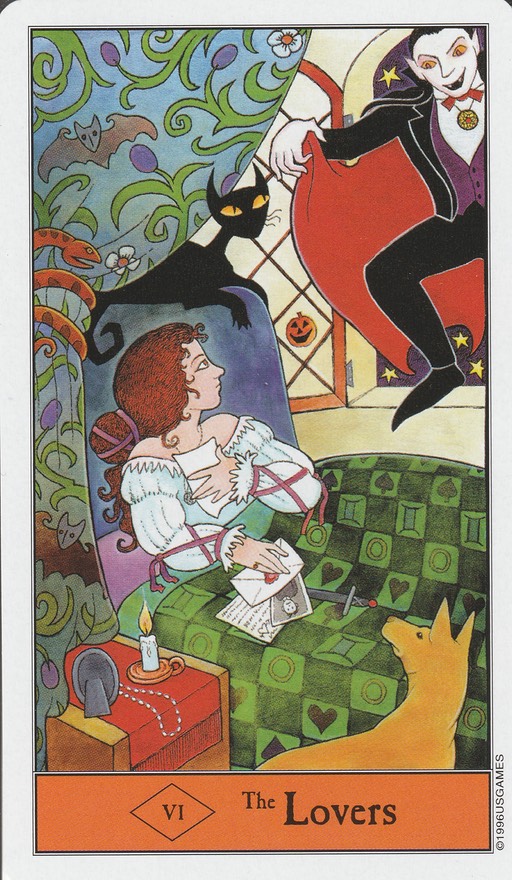 The Halloween Tarot, created by Kipling West and published by U.S. Games Systems, Inc., is closely modeled on the Rider-Waite-Smith deck. There are four suits, Imps (Wands), Bats (Swords), Ghosts (Cups), and Pumpkins (Pentacles). The deck has the traditional 78 cards. Strength is Trump number VIII and Justice is number XI. My two favorite cards in the deck and there are many you will like, are The Lovers card (VI) and The Moon (XVIII). You will find The Moon in this month's Tarot Scopes and The Lovers with this article. The only difficulty a novice reader will have with this deck is remembering which suit is which one from the Rider-Waite-Smith deck, or which element. The cards are playful, friendly, and approachable. They would be easy to use with clients of almost any age or sophistication. The cards are full color, yet strongly emphasize the Halloween colors of orange and black.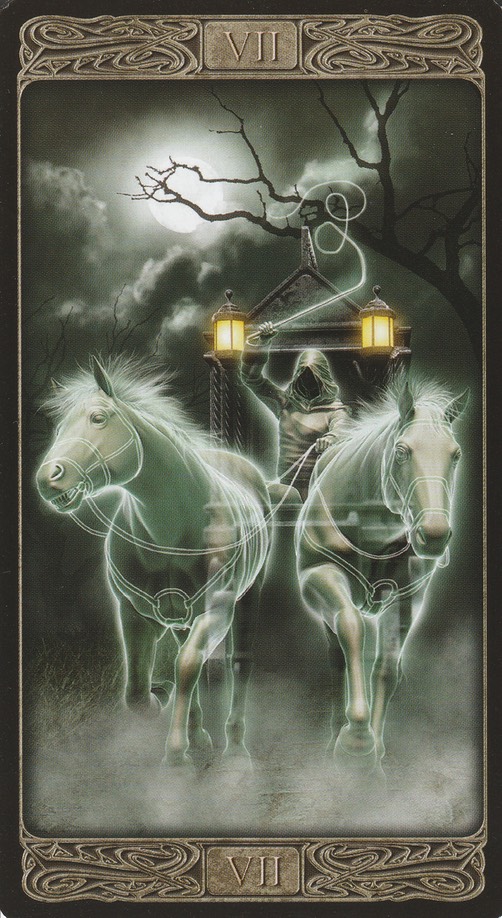 The Ghost Tarot is another 78 card tarot following the Rider-Waite-Smith tradition. It is created by David Corsi, illustrated by Pierluca Zizzi, and published by Lo Scarbeo. Strength is Trump number VIII and Justice is number XI. The card scenes are on dark backgrounds, which enhance the spooky, other-worldly atmosphere. The labels, at the top and bottom of each card face, are difficult to read. Each card features one or more spirits, usually interacting with images of the living. Most of the spirits are outlined in blue-white light, except for the Wands and some Trumps, in which spirits are outlined in red-orange light. My favorite card in this deck is The Chariot. For the most part, this deck is easy to read from and not too spooky for most clients.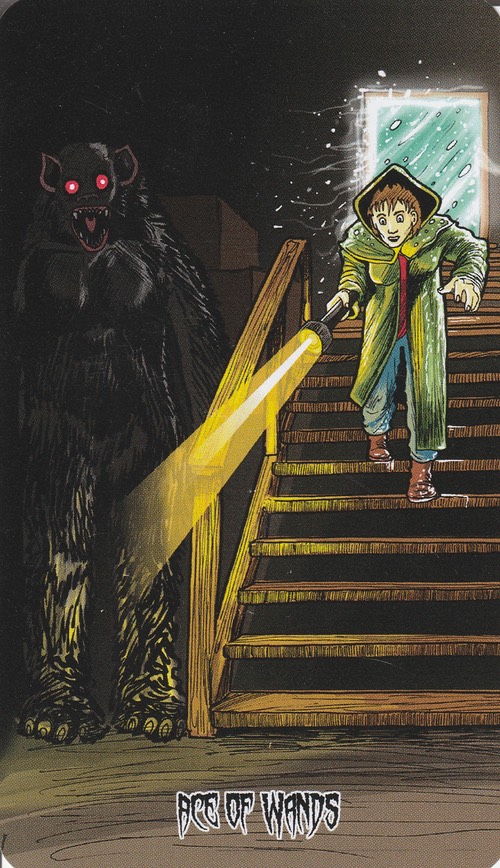 Twisted Tarot Tales is an 83-card (or 107-card, for the full version) tarot deck inspired by vintage horror comic books. It is a joint effort of artist James Battersby and his partner Christine Aguilar, and available directly from them at http://www.jamesbattersby.co.uk/. With the full version, you have several alternative cards for some of the cards in the deck, as they created several versions and liked them enough to send them along. Thus, for reading, you will need to pare the deck down to four suits of ten numbered cards, four court cards per suit, and 22 trump cards. There is humor in most of these cards, sometimes due to connections with popular culture. Most clients, except the very serious and young children, will be fine with this deck.  It's hard to isolate a favorite card from this deck because I like so many. One of the things I most like is the underlying visual message, particularly clear in the Justice, Three of Swords, Ace of Wands (shown here), and Four of Pentacles cards.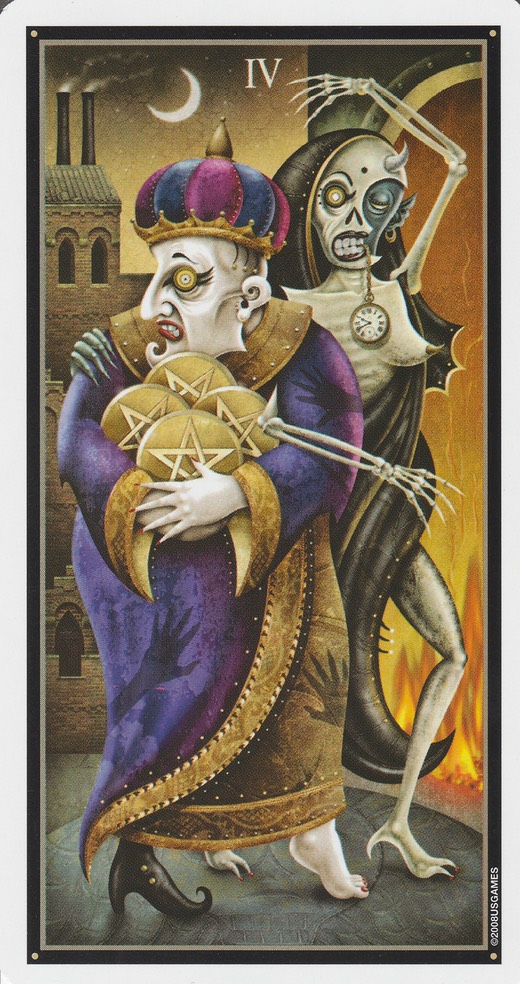 The Deviant Moon Tarot created by Patrick Valenza and published by U.S. Games System, Inc., is unique, with images and sometimes disturbing moonlit artwork. Here is a 78 card deck, with Strength as number XI and Justice as VIII. This deck I would use with only a few clients, those who would enjoy the macabre vibe. In many ways, these cards might be an illustrated bad dream. Most of the people featured on the cards are two-faced, with one dark and one white face, like the ever-changing Moon. Among those I found most interesting are the Two of Swords, the Four of Pentacles (shown here), and the Eight of Cups. One attribute of this deck is a lack of "feel good" cards. Everything seems to have a negative meaning.
In addition to the illustrations here of example cards, see this month's Tarot Scopes for six more cards from each deck.