Review by Peter Lucibelli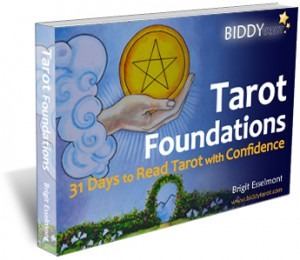 31 Days to Read Tarot by Brigit "Biddy" Esselmont, www.biddytarot.com
I just finished 31 Days To Read Tarot and I have to give this ebook 5 out of 5 stars. I will tell you right now, if you are getting into Tarot or even already in Tarot, this is an absolute must have. I have been learning Tarot now for two years and I have spent a lot of money on books (over six of them) and even more on different decks, only to find out that they are too complicated or way different than expected. If I had purchased this ebook at my start, I would have saved a ton of money as well as time. I also would have all the information I need right in this ebook. I also would have extra help with the built in hyperlinks not only to Biddy's information but a vast amount of other resources.
This ebook by Brigit (Biddy) gives you just exactly what you need. I do not see any room for fluff or any filler. Every word here makes total sense. Her research and knowledge of Tarot is vast. Her techniques for making sense out of a spread is totally incredible. Another thing I loved about this ebook was how she made you think and see so differently about the cards. From numbers, colors, where the people are facing, what they are doing, elements involved and more. All this helps you string a story from card to card within a spread which in turn will make a complete a picture and solid reading. I honestly feel that I am a much better reader since the completion of this. Had Biddy's ebook been around when I started Tarot two years ago I may have been in a different place with readings. I would have not struggled as much as other books seem to speak more about the meanings of cards. Biddy encourages your inner voice for the cards but stresses the background knowledge as well. however she makes it so understandable and actually fun.
A few key points that made me enjoy this ebook even more are the hyperlinks that bring you into worlds of additional knowledge. Biddy recommends other authors of Tarot books (some of which I own) as additional guides to help you in your studies. This I find as such a great and selfless quality as her goal is to get you to understand and get reading in 31 days. Templates, wow these were so helpful and will continue to be helpful These help you keep organized in your readings, comparing cards, learning meanings, thinking of additional meanings, they can also be used for studying your own readings and see how you progress. These templates are yet just another fantastic reason to get this ebook.  The exercises in this ebook are beyond beneficial. Not since this ebook have I found exercises so helpful, so very clear and again, actually fun. 31 DAYS TO READ TAROT IS A MUST HAVE!