By Terri Clement
Using Amy Brown's Faery Wisdom Deck
Thankfully, our weather has been much more mild that those of you on the east coast, but by looking outside the window you would think that fall skipped the Pacific Northwest and that we have moved right into winter. We have had some really strong winds, and heavy downpours. Even a few snowflakes have been seen.  
The garden is almost completely winterized. I need a couple more decent days to get it all finished. I really don't want to work outside in the rain. Yes, I am a sissy when it comes to the wet and cold.
Let's see what the Fae have to offer us for the month of November…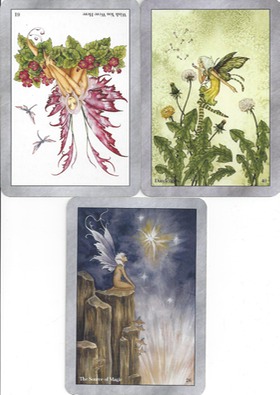 In the beginning of the month you might find yourself dealing with a hyper needy person. Don't feel like you have to be available for this person all of the time. It might just be time for them to experience some personal responsibility and take care of their own challenges.  This may sound harsh, but sometimes we do a great disservice for those who request our assistance by not allowing them to work through and learn their lessons for themselves. Stepping in can often lead to that person experiencing something very similar in the not too distant future. Try to find a balance when helping someone working through life lessons. Of course, you can offer advice, but you do not always have to do it all for them.
This is also a good time for you to pay attention to your health. How are you feeling?  Are you getting enough rest? Are you treating yourself to good, healthy food? Treat your body well. You may also find that this particular part of the month is very chaotic. Be sure that you are grounding yourself and shielding when you need to.
After this crazy busy time, the middle of the month brings stability. So grab a breath when you can, the holiday is right around the corner. Take some time this week to put your feet up, read a good book, watch your favorite movie, and just pamper yourself while you can.
This is also a time when the Fae want you to be careful how you are verbalizing things and realize that your thoughts and words are seeds that you are planting. So, be careful what you plant. Think about your own self talk. Is it positive or negative? Think about how you judge others. Are you seeing the good things that people have to offer or are you focusing on the off-putting? Try to be enthusiastic and constructive with your words and thoughts.
The end of the month is a good time for you to discover your own personal magic. Magic is not to be used by the Fae alone, the source of magic is in you. Change your world and make it a happier place. If something downbeat crosses your mind, than transform it into something wonderful. When someone takes the time to ask you about your day, let them know this is the BEST DAY EVER!  
This is also an effective time for you to study new things and add tools to your toolkit.  You might consider taking up a pendulum, studying runes or learning a form of energetic healing, such as Reiki.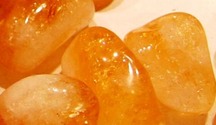 A helpful stone to carry this month is citrine.
Citrine helps energize every part of life. It helps cleanse the chakras and opens intuition.  It is a powerful manifesting stone that can help bring in wealth, prosperity and success. It helps release negative traits, depression, phobias and fears while encouraging creativity and self-expression.
As always, I hope you find that this message from the Fae helps guide you through the ups and downs of this month!  Remember to say a special little thank you to our Fae Friends for the guidance, insight and entertainment!
See you again next month and keep the faith!