By Sheri Harshberger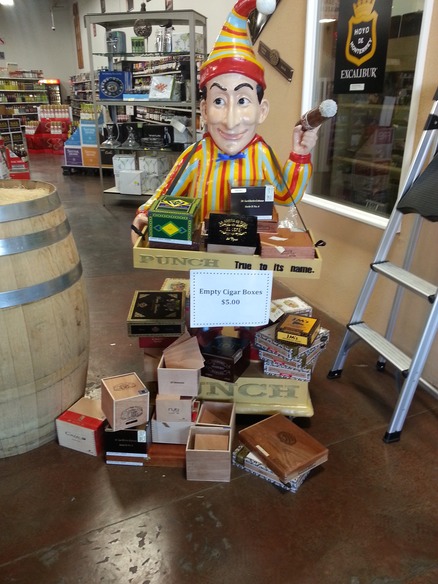 Time is flying and the flurry that is the holiday season is upon us. Every year, I strive to make gifts for friends and loved ones, but I always run out of time as the holiday deadlines approach. Part of the problem is that I have a very limited amount of spare time available to work on gift projects. A nice gift in and of itself is a gift box. It can be used by the recipient to store treasures, such as favorite Tarot decks or other oracles, so it is a gift project worth the effort.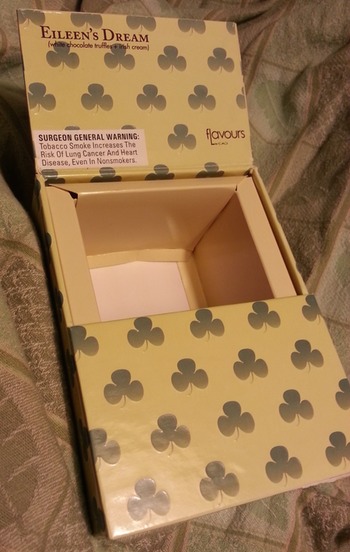 Several months ago, I was visiting a local liquor store that also sells cigars. Near the cigar room in the store, there was a display of an assortment of empty cigar boxes. Because cigars are a precious luxury for those who smoke them, the boxes are almost always guaranteed to be very sturdily constructed. There was also an amazing variety of designs. These aren't your childhood secret treasure boxes. The price was $5.00 a box, so I grabbed 5 nice ones. When I headed to the checkout with a few other "bottled" things, I was in for a surprise. The cashier actually GAVE me three of the boxes for free, charging for only 2 of them! That's 5 nice, wooden boxes for $10.00, which is very competitive with craft store wooden boxes, and these were better constructed and in practical sizes. I took some pictures of the boxes I got. The yellow and green one (see right) was one of the free ones. I was impressed with the sliding top cube-shaped box (below left), as well as the hinging on the well-made "traditional" style (bottom right).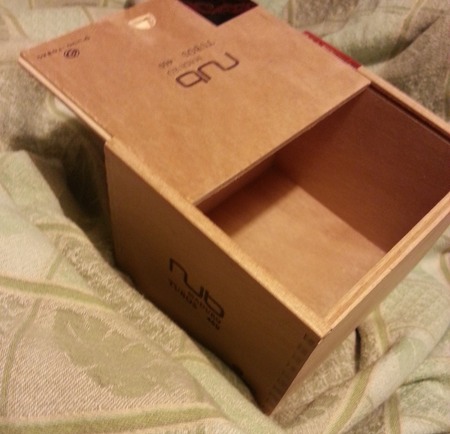 Right now, you might be thinking that you wouldn't want any deck or other item placed in a cigar box to absorb the smell of cigars, so I'm going to take a moment to talk about that. First, these boxed didn't smell of tobacco. Most of the cigars that come in boxes like this are individually wrapped or otherwise insulated to keep them from being damaged during shipping. Second, while some tobacco products can really stink when burned, which I am very aware of as I'm asthmatic and can't be around smoke of any kind. Unburned, cigars don't smell the same as burned ones. Even when they are burned, the higher end ones have a nice smell that I can even tolerate. Finally, and actually probably the most important thing is that tobacco has a strong and long spiritual history. It was, and still is, a sacred tool in Native American ceremonies and rituals, and is also used for medicinal purposes. Some believe it amplifies and strengthens spiritual power and connections to the spiritual world. A few years ago, I had the opportunity to make my own drum from elk hide and drumstick. When I made the drumstick, I included tobacco with the other herbal talismans in the head because of its spiritual power. I can't think of a better way to pump up the spiritual volume of a favorite oracle than keeping it in a place that has been seeded with tobacco energy!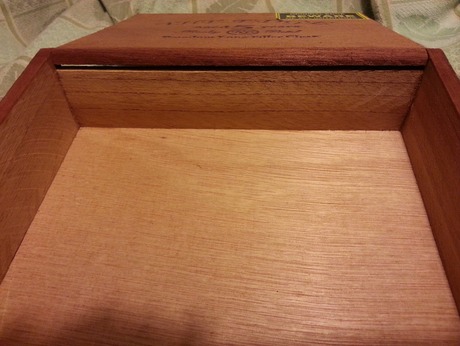 What you can do with these boxes is limited only by your imagination. You can paint, decoupage, embellish, etc., however you see fit. You can even cover them with air-dry clay to create contoured or otherwise new surfaces on the boxes before proceeding with decoration. The insides can be left alone or lined with fabric, paint, etc. There is a lot of freedom in how these boxes can be decorated or enhanced. If you have wooden boxes with writing on them, you can use sandpaper or a rotary tool to sand and/or carve into the wood surface of the box to remove the existing writing. You can also hide the existing writing by covering it with images and decoupage or other items.
Hopefully, this has sparked some creative gift ideas for the holidays! What do you get that reader who has everything? How about a cool, customized box for their favorite deck or oracle?