Review by Terri Clement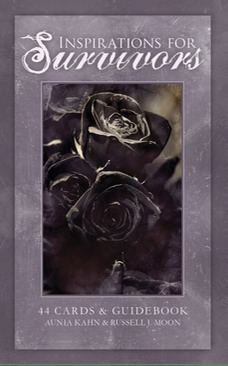 Inspirations for Survivors by Aunia Kahn & Russell J. Moon
Published by Schiffer Publishing, Ltd, www.schifferbooks.com
ISBN:  9780-7643-4124-3
In this day and time, we have all "survived" something. It could be a rough childhood, the loss of parent, friend, sibling or spouse, medical issues, you name it… We've all gone through "something." We all carry baggage from somewhere.  
Inspiration for Survivors does not treat survivors as victims though. Instead this 44-card deck and 96-page guidebook is designed to help bring peace and tranquility back into our lives. It's about understanding that tears do not equal weakness and finding healing through nature and natural experiences.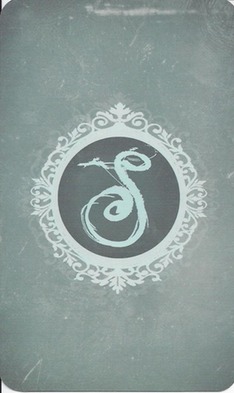 The cards measure 2 7/8" wide x 4 ¾" tall. They are very flexible with a very shiny laminate. They are a bit sticky, but fanning power would easily cure that. The card faces have a ¼" border around the top and sides of the cards and a 7/8" border at the bottom of the card. A key phrase is on written in that bottom border. The card backs are done in a grayish blue. In the center there is a scripted "S" inside of a frame that looks almost like a brooch.
This set arrives in a small, but heavy cardboard box, with magnetic closure, with silver pull tab and stays. The cards are held together inside the box, by a narrow plastic sleeve.
The small guide book contains a brief introduction, biographies of the authors/artist, an explanation for each card as well as a smaller full color image of each of the cards.
The artwork is stunning and messages are thought provoking.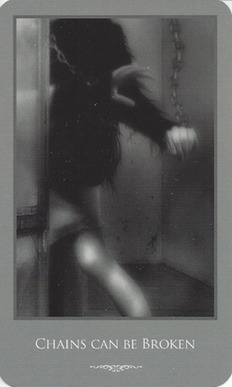 One such image is "Chains Can Be Broken," this image shows a woman struggling against arm chains that seem to be holding her in a cell. The guidebooks says "Every person feels as though something is holding them back, keeping them from being where they want to be. These chains are only as strong as we allow them to be…" This tells the reader that they are not alone in their struggle and they have some choice in this situation.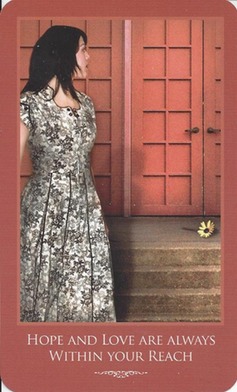 Another amazing image shows a woman at the bottom of a set of stairs. She is wearing a floral dress and is looking back over her shoulder. On the doorstep is a daisy. The key phrase for this card is "Hope And Love Are Always Within Your Reach."  The guidebook says "…Our continued happiness and joy is only a step away…"  This reminds the reader to take the smallest step forward.
Though this deck is not a Tarot, it really has some good insightful and inspirational messages and deserves a look.
Personally, I would recommend this deck to many of my clients to help them transition to a healthier state of mind. In addition, for those who need emotional healing, this deck can easily be used for a daily draw for inspiration or meditation. It could be used as a jumping off point for journaling or maybe even some character development for those who are fiction writers.