Review By Terri Clement
The Chronicles of Destiny Fortune Cards by Josephine & Emily Ellershaw with artwork by Claudia McKinney
Published by Schiffer Publishing, Ltd, www.schifferbooks.com
ISBN: 9780764346248
Retail:  US $45.00
HOME RUN!  Way to hit one out of the park (and I am not even a baseball fan)! Might be my new favorite "go to" deck! The Chronicles of Destiny Fortune Cards – Lords, ladies, knights, ships, and faeries! Everything a fantasy reader is looking for in one brilliant deck.
This deck is filled with beautiful, but yet haunting imagery. Gilded edges, that leave a little gold glitter flake everywhere as you separate the cards. Yes, there was quite a bit of sticking, but this deck is well worth the effort. One might want to have a little fanning powder on hand for this one.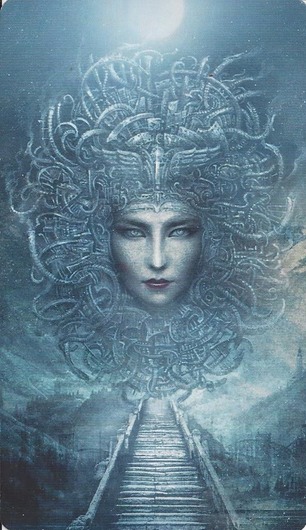 First, let's chat about the packaging. HOLY COW!  As I am writing from the home of the Seattle Seahawks NFL team, I should say TOUCHDOWN! This is the best I have seen yet. In my opinion, this is the Super Bowl deck of the year!  Schiffer is off the hook, this looks like a well loved book, not a Tarot box! Once again, nice cardboard, heavy duty, great in a back pack, but well suited for a library. Ivory pull tab and stays with a magnetic closure. Two recesses inside the box, one that houses the companion guide and the other seats the deck. The deck is held with a 1-inch wide plastic sleeve. No inky smell at all. Yay!
The deck itself measures in at a smart 5 ¾" tall by 2 ¾" wide. It riffle-bridge shuffles and fans without hesitation, once you get all of the cards released from one another.
The images from this deck are luminescent with a brilliant color performance, fantastic under candlelight. Those who are looking for a realist deck, you will not want to play with this one as it is heavy on the fantasy play.
The back of the cards show a mysterious staircase leading up into a foggy hillside over what looks like an abandoned city. A stern Medusa-type face is in the center of the card with a metallic looking maze surrounding her face.
A couple of cards drawn at random: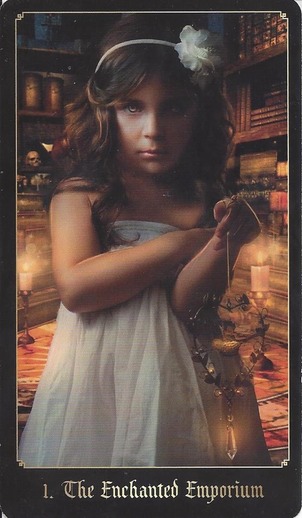 1.  The Enchanted Emporium
An amber eyed little darling looking like she just stepped off the set of Twilight holds a candle lit heart shaped beaded lantern. She is wearing a flowing white gown with a matching white headband. Behind her, there are potions, notions, and books filled with magical secrets. She is daring you to pass her by. Quite the young Priestess we have on our hands!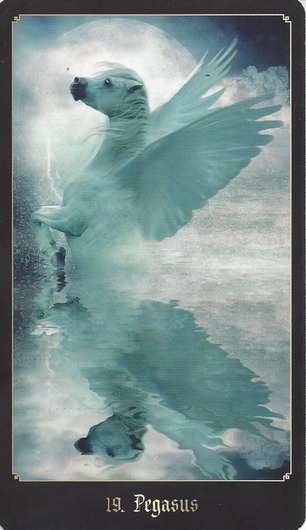 The companion book shares:  "On a certain street in every town, nestled between unsuspecting buildings and invisible to the discerning eye, The Enchanted Emporium waits…  …learning in a formal or informal environment.  …a path to greater awareness."
19. Pegasus
Rising up out of the water on a full moon night rears a striking dark muzzled, white winged Pegasus. Lightning flashes in the background.
Lightning strikes and… "The storm has returned.  This card represents a short journey… and the element of speed."
21.  The Baroness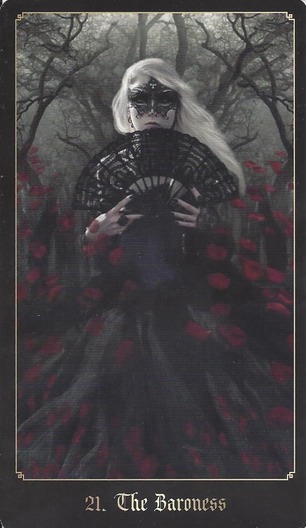 A silver haired vixen clad in black. Black mask, dress, nails, and fan set in a misty and dark woods in a night setting. Red leaves are falling from the bare branches, almost unnoticed around her in the darkness. 
The companion book states "Pay attention to what is going on around you.  …someone is up to no good."
The companion book, though a paperback, is a great quality piece of work just on it's on merit. It has a fantastic cover that looks like an old, green leather bound book, with a brown leather tie. The pages appear aged. There is a fantastic introduction and each card has its own chapter, with a small full color version of the card. The deck itself follows a story, which is followed through the companion book. Many archetypes make themselves known throughout this deck and book.
The companion guide also includes several unique spreads (No Celtic Cross found here)! Amazingly refreshing! There is a smit of information, a bit about reducing numbers and using the timing cards (Lady Spring, Lady Summer, Lady Autumn, Lady Winter, Hero II, and Herione II). There are also example readings in the book.
All being told this is a kick-ass and take names deck, very similar to all of those by Ciro Marchetti. Good on Schiffer, artists & writers for an all around "out of the park" package!