Review by Sally Nur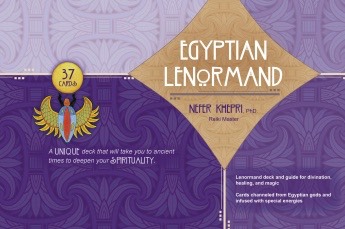 Egyptian Lenormand
By Nefer Khepri, PhD, Reiki Master
Published by Schiffer Publishing Ltd.
www.schifferbooks.com
ISBN-13: 978-0-7643-4776-4
Retail US: $29.99




Schiffer Publishing, Ltd. pulled out all the stops when they decided to publish The Egyptian Lenormand by Nefer Khepri, PhD. Packaged within a rectangular boxed case, this deck can be stood on its end which comes in handy as it takes up less room on your bookshelf. The case is artistically decorated in four shades of purple and is further highlighted by an intricate flower motif. This motif is beautiful watermarked to all other pages throughout the accompanying guidebook. The guidebook itself is fully coloured throughout including the images used in the sample readings.
Many Lenormand readers scrutinize decks based on tradition and interpretation of images especially when nontraditional themes are applied. Some readers prefer deck creators who either have some type of credentials or would have done the painstaking background work to flush out the original interpretation and meaning used in the creation of imagery which impacts the overall reading. An inquiry into Dr. Khepri's background revealed that she is a life-long student of Egyptian art and culture. She has attained Bachelor of Arts and Masters of Arts Degrees in Anthropology and is also the holder of a Doctorate in Latin American Studies and therefore academically qualified to create such a deck.
The deck is securely nested under the guidebook. I recommend you read the guidebook thoroughly before using this deck and definitely do the activation ceremony which activates the healing properties of the cards as they are designed for multipurpose use including magical work. I did the activation ceremony as outlined in the guidebook and felt subtle but tangible waves of energy. It is an interesting metaphysical experience to look forward to.
I would have appreciated a simple pouch for the deck even though it's really not necessary. The laminated cards are slightly larger and thicker than regular playing cards. They feel comfortable in your hands and are easy to shuffle once broken in. The card imagery is presented in vibrant colour against a complementary watercolour background. This not only makes it easy for the eyes to spot, but the softer, artistic tones create a peaceful resonance.
The following is a demonstration on how I performed a spell to sell my car using a five card spread and a green taper. 
So basically, I followed the usual precautionary methods for candle magick, charging my taper to allow my car to be sold quickly. Key + Rider + Garden + Ship + Money. Fairly, straightforward but in a nutshell, the "key" person here is the visitor (Rider) coming in within a crowded setting or internet (Garden) to view my car (represented by Ship) and make an offer (Fish). I lined up the cards as seen above at the front of the taper. The wax did not hold my taper properly and it fell on the Key card. Besides the magickal significance coming to mind, I also noticed that the wax leaked onto the Key card did no damage. It was gently scraped off and the laminate protected it.  It was not my intention but take my word for it just in case. Two weeks after I did the spell, I saw my car advertisement get about two thousand hits. No offers yet, but it's really refreshing to know that people are viewing it.
If you are a deck collector, magickal practioner or healer I fully endorse The Egyptian Lenormand by Dr. Nefer Khepri. For everyone else if you are like me, just get it for the artwork.