Review by Diane Wilkes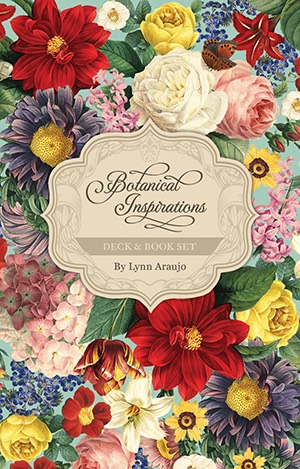 Deck by Lynn Arujo
Publisher: US Games
ISBN:  978-1-57281-855-2
Retail U.S. $22.95
One of the quandaries every conscientious reviewer faces is not simply recognizing one's partialities and prejudices, but then expanding his or her vision regarding the subject of the review to encompass an audience that has quite different inclinations. No product is for everyone; the questions that need to be answered are 1) who is the target audience and 2) is it a quality product for the target audience and 3) will it appeal to others outside of the target audience. It seems the Botanical Inspirations Deck by US Games has multiple audiences, as it is being marketed to museums and gifts shops, as well as new age stores.
When it comes to cards, I am partial to tarot, am open to what I consider quality oracles, and when it comes to either, I prefer only the title information to be placed on the cards themselves. As an image-based reader, any additional words will distract from or interfere with my intuition, so limit your verbal intelligence to the little white book and let me focus solely on the icon. However, this deck isn't necessarily an oracle, but an "Inspirational deck"--I find the differences between the two a bit blurry, but you know what they say. To a carpenter, everything looks like a nail, and to a diviner, everything looks like an oracle.
The box is elegance itself: slightly larger than a tarot deck, the sturdy box opens from the front, with a small, satin sea-green ribbon handle. (Sea green is possibly my favorite color, but others might see this as more of a mint. But I digress.) The top is covered with flowers and, imagistically, suggests Victoriana Magazine, especially with the look of the aged-paper title label. This box would be an addition to any room in your house--it exudes the feel of gracious living and old-world opulence.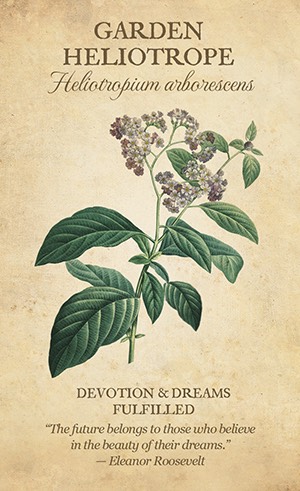 The card background is the color of aged ivory paper, and a stemmed flower or flowers appear on each card of the 44 cards. All illustrations are by Pierre-Joseph Redouté, a painter whose botanical and floral watercolors were the most famous and sought-after in Europe in the late 1700's. The name of the flower, along with its botanical name appears at the top, and keywords and a quotation, along with the quotation's author, appear at the bottom of each card. As you have no doubt guessed from my introduction, that is too many words for my taste. For an oracle, that is.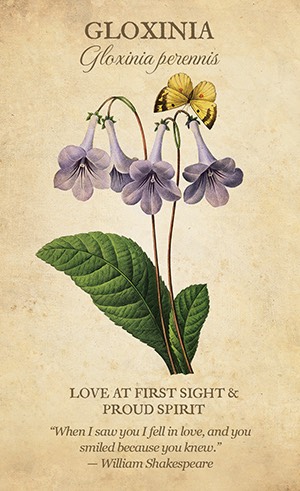 However. I love flowers, but I don't know much about them, and I know even less about their symbolic meaning. For me to use this deck as an oracle, I need as much information about them as I can get--and the corpulent companion booklet, written by Lynn Arujo, contains, even more, words than the cards themselves. It offers a short paragraph about the history of the card and provides a paragraph-long "Inspirational Message," as well as several three card spreads and two sample readings. Also included with the deck are a fold-out "cheat sheet" that encompasses all the card titles with their keyword or keywords, and a sea-green (or mint) gauze bag for the cards. While the bag adds to the gracious living aspect of the deck, I can't imagine why anyone would remove it from its lovely accommodations.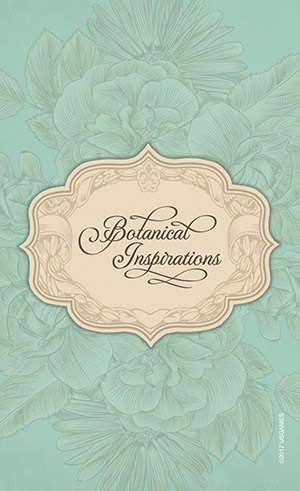 When I saw the three card sample spreads, I secretly suspected that they were gratuitous, or, not to put too fine a point on it, gilding the lily. Other spreads I've attempted with some unnamed decorative oracles have led to highly unsatisfying, jumbled results that convinced me that one card readings were the best and sole province of non-Tarot oracles. The way Botanical Inspirations is constructed seemed to be ideal for oracular novices who wanted to draw a card for a gently soothing or inspirational message, but not for any kind of profound or interconnected message that a three card tarot spread might provide.
Despite that, I decided to try one of Arujo's Fleur de Lis spreads (and, as I did so, realized how clever she was to name them thus--Fleur de Lis translates to Lily Flower). The three positions were Faith/Wisdom/Valor and my question involved a current tarot project. I received valuable insight and specific advice and, in a surprising synchronicity, received a flower keenly specific to my project. While I referred to the companion booklet, I got all the insights I needed simply from the keyword and quotation, combined with my own intuitive correspondences.
To play devil's advocate, while my reading was quite meaningful, the cards don't really interact in the same way tarot cards do. I could have as easily asked three separate questions about my project and received the same answer. Perhaps if I were more versed in flower lore, additional inter-card associations would suggest themselves.
I'm not sure how much I will use this particular deck, but I can not only recommend it to whom I initially perceived as its target audience, novices and art and flower enthusiasts attracted to a lovely and mainstream set, but to anyone looking for an effective flower oracle. This deck would be equally "at home" in a museum or a new age bookstore.