By Terri Clement
Using the Woodland Wisdom Oracle by Frances Munro Peter Pracownik and, published by U.S. Games Systems, Inc.


Here in my neck of the woods we finally had 3 days of pretty warm weather. Upper 80's and 90's can be a bit rough for this outside lover! Those couple of days may also have killed off about ¼ of my garden. I had several starts that I thought were plenty hardened off from the greenhouse, but I guess not. I am sad to see these little plants that the Fae and I have nurtured for several months are gone or withering. Hope you are having better luck!

Well, let's check in with our Faerie friends and see what the have to tell us about the month of July... 



The Lily Faerie says there is no time better than now, to change your life for the better. This may involve learning to trust again. It may be hard, but it will be so worth it. ...and YOU are worthy. She is also reminding us to look at our expectations.What are we expecting to come our way? Whatever that is you are likely to get it, so you better be expecting good things! She is also one of our many water faes – so as the weather gets warmer, she wants us to be sure that we are staying hydrated. You might also want to check on single and older neighbors just to make sure everyone around you is okay. We would want them to do that for you.
The middle of the month we get the reminder, yet again that we need to enjoy life more. Do things that are worthwhile and that allow you to experience joy. Sometimes we don't feel that we are worthy of joy... Remember, what the Good Faerie told us earlier about expectations.
The last part of the month the Faerie of Golden Light is reminding us to let go of the bonds of past regret. Enjoy the journey that you are currently on and the path that you are getting ready to take. You have the potential to go far, so begin soon!


A nice stone to wear or carry this month is the Smokey Quartz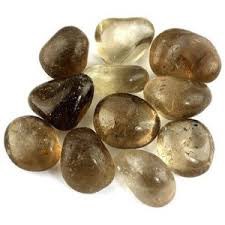 This is a fantastic stone that calms fears, lifts depression, and creates stability. It is also a great grounding stone. It can bring calmness, relieve stress, and anxiety. It can also help with concentrations and communication troubles. While dispelling nightmares it can also help your dreams become reality. Physically, the Smokey Quartz can help with cramps, back pain, and headaches.

*Healing properties are not intended to replace the advice of your doctor.

As always, I hope you find this message from the Fae helps guide you through the ups and downs this month. Remember to say a special little thank you to our Fae Friends for the guidance, insight, and entertainment!