Your Complete Guide to Understanding the Tarot

Review by Terri Clement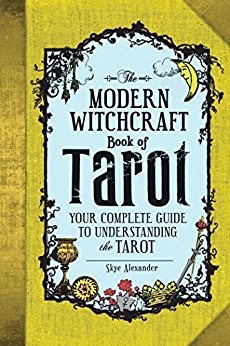 Written by Skye Alexander

Published by Adams Media
Released 2017


ISBN: 978-1-5072-0263-0
Retail US: $16.99
The Modern Witchcraft Book of Tarot is a well put together guidebook for the Tarot from a witchy perspective.

I love how attention has been paid to detail with this publication. The hardback cover looks aged and "well loved." The pages inside the book are intentionally cut uneven, giving that worn and used feel.

The book gives a fantastic beginner look at tarot, doing readings, the basics of numerology before going into the individual cards and working with several different spreads. There are black and white Rider-Waite-Smith images used throughout the card section. 

Part IV of the book is where you will find the witchcraft coming in to play with the Tarot. This section is called Using Tarot Cards in Magick Work and it covers a variety of spellwork using the Tarot cards. These spells include love spells, creating an amulet for protection for your home, success spells, and much more.

The Modern Witchcraft Book of Tarot would be an excellent jumping off point for any new Tarotist and those new to witchcraft. With its presentation, the book would also make a wonderful gift for someone new to Tarot.


Review copy provided by Skye Alexander