Review by Terri Clement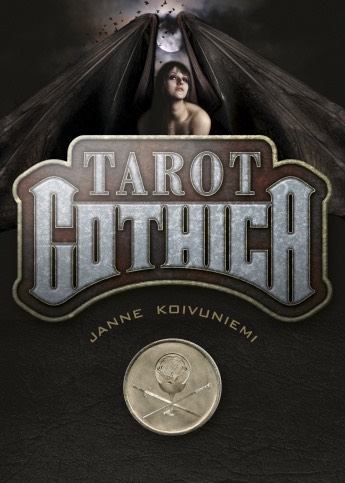 Tarot Gothica
By Janne Koivuniemi
Published by Schiffer Publishing Ltd.
www.schifferbooks.com
ISBN: 978-0-7643-4818-1
Retail U.S. $24.99
Released 2015





The world of Goth meets Steampunk in a strange and at times twisted way here in Tarot Gothica.
The 78 card Tarot deck and 80 page guidebook set is housed in a small, heavy duty cardboard box with magnetic closure, brown ribbon pull tab and stays. The box is shrink wrapped in plastic and the cards held together with a plastic sleeve and are stored under the guidebook. 
As soon as you remove the outer plastic you can smell this set. Chemical, inky, and stinky! There are many techniques that one can use to help the smell of a deck dissipate – this deck and book set will probably need it. I would start by airing out – or maybe in a larger box with scented candles, packs of incense or maybe even a dryer sheet.

The cards themselves are super flexible with a light laminate. They do bend and gouge easily. The cards measure in at 3 1/2" wide by 5" tall.The deck is a bit difficult to riffle-bridge shuffle. Those with small hands will definitely need to adjust their shuffling technique. The deck fans across a table like soft butter spreads on toast.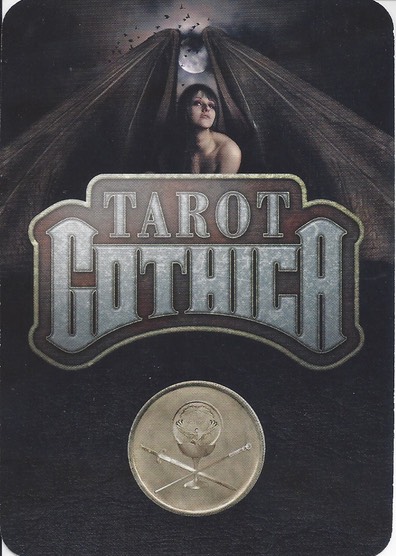 The card backs are not reversible friendly and this image is also used on the outside of the box. A full moon sits at the top of the back of the card and shows a dark haired woman with large black bat-likewings. The title of the deck sits in the center of the card with a coin at the bottom featuring the 4 suit symbols. The card faces have a very narrow blackish grey border with what appears to be old pipe with what appears to be smaller pipe winding its way around the larger pipe. The card numbers are on the top of the cards and either their title or suit symbol on the bottom.


The suits are Batons (Fire), Chalises [sic] (Water), Swords (Air), and Coins (Earth). The Courts are Princess, Prince, Queen, and King. Justice is 8 and Strength is 11. The Wheel of Fortune is renamed Destiny, Hierophant is the High Priest, and the Hanged Man is simply called Hanged.


Several of the images are visually stunning and others are different and bizarre. The images were created using photographs of live models and photoshopping those images onto scenic backgrounds. You will find several cards with female nudity.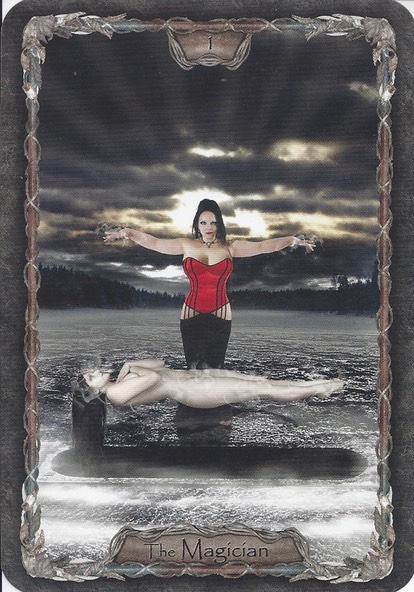 The Magician shows a woman in a red corset and black levitating a nude woman. The background is a cloudy sky over a body of water.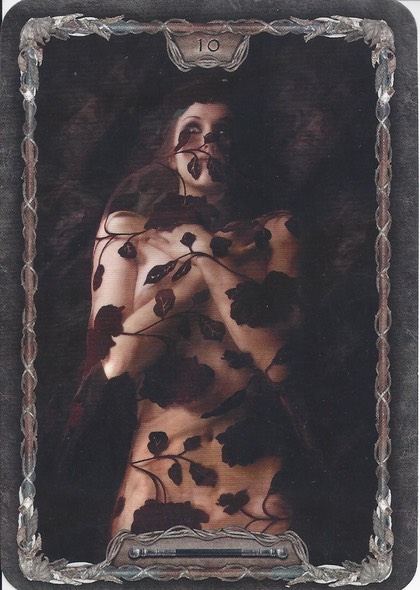 The 10 of Batons features a nude woman in a prone position with a black vine growing around her as if pulling her deeper into the plant itself. Keyword here is "Suffocation."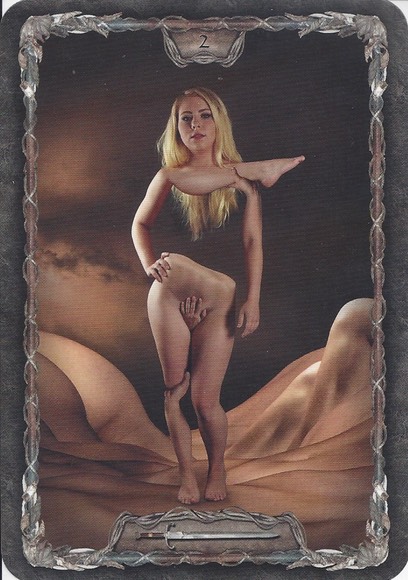 The 2 of Swords is an image that really makes me feel uncomfortable. I find myself at a loss of words when trying to give a written description of the card and have chosen just to show the image.


The guidebook says "Delicate balance. Inward withdrawal and contemplation. The mind is in a fragile state searching for Darkness in Light and Light from Darkness. The inner world, untouched by the outer world."

The guidebook gives a very brief introduction and jumps right into the cards, showing a small image of the cards and a few lines of simple meaning. If you are new to Tarot – I recommend really spending some time getting to know this deck and come up with your own way of working with it, then maybe check out a good all around Tarot book to go along with your studies.

This deck isn't for everyone – while it's not for me, there will be groups that will love this deck. Those who enjoy "shock value" will especially find this deck interesting. Those deep in the Goth world or Goth/Steampunk groups, maybe even those Vampire groups out there may want to give this deck a look. Preferably, one would have a the basic Rider-Waite-Smith background to use this deck comfortably right out of the box.