Review by Sheri Harshberger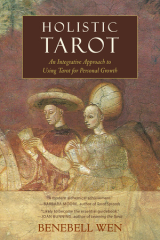 Holistic Tarot: An Integrative Approach to Using Tarot for Personal Growth by Benebell Wen
Published by North Atlantic books, www.northatlanticbooks.com
ISBN: 978-1-58394-835-4 (paperback)
ISBN: 978-1-58394-836-1 (ebook)
Retail: U.S. $29.95
Holistic Tarot: An Integrative Approach to Using Tarot is a new 896-page book written by Benebell Wen. Published by North Atlantic Books, it is available in both ebook and paperback form. The ebook is available now. The paperback will be available January 2015. This review is based on the ebook proof.
In the interests of full disclosure, I don't know Ms. Wen personally, but as a fellow member of the American Tarot Association (ATA) and one of the mentors in the ATA Mentor and Protégée program. However, I won't let this relationship bias my review of her book…as if she needed it. She doesn't. It's a gobsmackingly good book in scope and depth while also being an easy read.
As the title indicates, Ms. Wen takes a holistic approach to Tarot in her book, including history, applicable theories, deck selection, deck care, keeping a journal, approach to learning, keywords, meanings, significators, applied interpretations, using and creating card layouts, self-readings, appropriate questions, ethics, and much more. There are 9 appendices that include astrological, elemental, numerological associations, and sample logs and templates that can be used by the reader as a basis for personal and business records. I honestly can't think of a single thing that has been left out. There is so much information packed in this book it makes it hard to know where to start with the review! One of the strengths of this book is that she never says that it's her way or the highway. She provides sound advice and a structured framework within which a reader or Tarot enthusiast can get started with the expectation that the reader is going to evolve into doing their own thing once a strong foundation is built.
Another strength of this book is that there is very liberal use of very easily understood graphics and tables, which really are the best way to show process flows, relationships, and collections. I see this book really being one of the few comprehensive, yet easy to use go-to references for any Tarot reader from beginner to seasoned pro. 
I really think that Ms. Wen brings a LOT to the Tarot community and her book is destined to be one of the foundational Tarot resources that will be recommended and sought out through the ages. I love the scope, the depth, the graphics, and the easy to read style that she uses, and, at this price, it's a true gift to the Tarot community!