By Sheri Harshberger and Terri C.
Terri C. and I were talking about how fast Christmas was approaching and the conversation turned to gifts and we decided to make a list that might be helpful to someone!
For the Collector
If you are buying for a deck collector, it might be tough beating them to the decks they might want, but maybe these ideas could help:
Get the deck anyway. Many collectors like to have multiple copies of the same deck, especially if it is a favorite one, or one they use a lot.
Artwork. Consider purchasing artwork from their favorite deck artist. Ciro Marchetti, Joanna Powell Colbert, Robert Place, Patrick Valencia and many others offer prints of their cards or other pieces of original artwork on their websites for purchase.
Storage, bags, etc. If the collection isn't too big, consider getting a nice box or chest and decorating it with paint, decoupage or another artistic application, incorporating her favorite things or deck. If you sew, knit or crochet, you can create a special bag for that special or favorite deck. Most materials, even baskets and boxes, can be found at local craft stores.
If you have to order something from the Internet and know it won't be delivered in time for the holidays, make a lovely card or certificate letting them know what they will be receiving and wrap that for the recipient to open.
For the Professional
Do you have a professional reader on your list that has all the decks s/he wants or is picky about what decks they have? Here are some suggestions for them:

Pocket watch. A beautiful and stylish timekeeper especially useful at reading fairs, even allowed at Renaissance Festivals if the time period is the late 1500s. It allows the reader to keep a time piece on his/her table without worrying about an annoying beep that could disrupt a reading or other readers nearby. You can also get the engraved with a special message. I got two for Christmas a couple of years ago after I saw Terri's at a fair we did together. I always have one or the other with me whenever I read.
Jewelry. Stonechip necklaces are beautiful and versatile jewelry that will help energize your favorite reader. Joanna Powell Colbert and many other deck artists also make jewelry that is Tarot-related or uses their own artwork.
Anything from the Baba Prague stores. We haven't talked about them much, but the creators of the Victorian Romantic, Baroque Bohemian Cat and the outrageously popular Bohemian Gothic Tarot decks makes much much more. Messenger bags, laptop bags, all kinds of bags made from all types of materials. These are well made bags! They also make other Tarots and oracle decks. If you don't have time to order, you can create a beautiful card or note to wrap up and give to the reader. S/he will then know that their special gift is on its way.
Gift certificates. Always a good choice! Think outside the box and consider a gift certificate for your favorite reader to get his or her nails done (the hand massages are to die for!). Their hands work hard all year! Of course there are gift certificates for several online retailers, such as: House of Tarot, Aida Store, Tarot Totes, TarotWorks, and many more!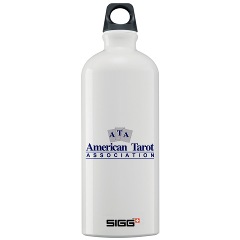 Wide mouth food thermoses and water bottles. Frequently, a busy day of reading at a venue leaves a reader little time to go out for food. A wide mouth food thermos allows a reader to carry a meal with him or her to the venue and not have to worry about keeping it hot or cold. Associated with these, you could consider a personalized water bottle that your favorite reader can take with them. You can't have too much water when you are reading! Using a service like Cafe Press will allow you to upload a memorable image or the reader's logo so that you can personalize the bottle for them. Cafe Press uses SIGG water bottles, a top name in reusable water bottles. If you don't have time to order and receive a bottle from Cafe Press, consider finding a local bottle that has a lovely design or is in a beautiful color.
Flameless candles. These are great! The best ones are wax, with the smell and feel

of real candles but with such amenities as timers and burnt looking wicks. Many run for hundreds of hours before requiring a battery change. No worries about setting a venue on fire or anyone getting burned either.
Most of all, remember the important thing about the holidays in that it is the thought behind the gift that counts and not the amount of money spent. Gift back to God or the Universe (or whatever higher power you believe in) by donating to a charity... time or money is always appreciated! Have a blessed and joyous holiday!