Review by Tabitha Chamberlain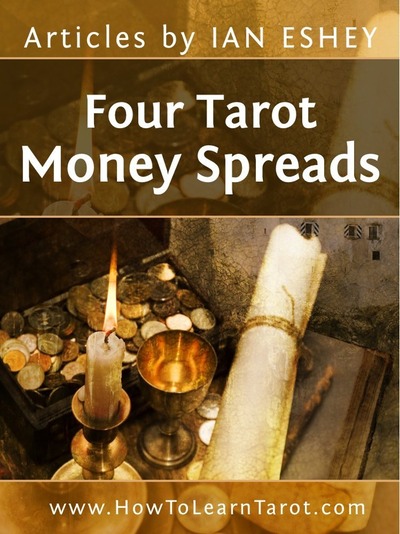 Four Tarot Money Spreads by Ian Eshey
Kindle edition eBook available through Amazon.com, www.amazon.com
Retail: $0.99
Four Tarot Money Spreads is available only as eBook for 99 cents. It is roughly 27 pages long or 1078KB. It offers four smaller Tarot spreads, 6-8 cards each, on money and career guidance that is based from the authors two other books: Six Short Stories: Learn Tarot in a Day and Tarot Spreads for Love, Career, and More: Get Your Questioned Answered.
The spreads are usable either for newer Tarot readers or those that have been reading for a while. With a quick, open and friendly writing style the author allows you to follow his progress as he gives examples for each of the four spreads: 
Saving Money - 5 cards
How to Make Money From Home - 6 cards
How to Find a Job - 7 cards
Forked Path (for decision making) - 8 cards
The examples that he gives are vague but it's enough to give the reader an idea of how each question relates to the overall spread. The last spread he does give a detailed reading, using the RWS deck with traditional meanings, to show how the spread is to work once it is laid out. 
Each spread is well thought out. The one that seems to have the most thought and detail put into it is the How to Find a Job spread. It forces the reader's sitters to seriously review what they are thinking pertaining to a job search. 
The downsides to this eBook are minor. There are a few typos and grammar issues that are typical of eBooks and there are no markers or chapters, so you have to search to find a particular spread.
A nice little added bonus is a free download (PDF format) for his Tarot Spreads Handbook.