Review by Terri Clement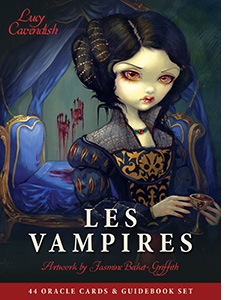 Les Vampires: 
Ancient Wisdom & Healing Messages
 from the Children of the Night
 by Lucy Cavendish
 with art by Jasmine Becket-Griffith

Published by Blue Angel Publishing, 
www.blueangelonline.com

ISBN:  978-1-922161-16-1
Retail U.S. $22.95


Available March 31, 2014
Beautiful, but dangerous, elegant, and dark! They are a bit melancholy, maybe a tad lonely, but yet very powerful. These are like the helpful, but Gothic, big sisters, with knowledge and life experience that many of us wish we had. This is a deck that I can't seem to put down! 
Les Vampires Oracle is yet another visually stunning collaboration between Lucy Cavendish and Jasmine Becket-Griffith. This 44-card deck and 164-page companion guide are designed for those going through dark times, or those facing difficult challenges. Ms. Cavendish puts it very eloquently by saying "Connecting with these cards, their energies, and these aspects of yourself is a little like connecting with the raven, rather than the swan, the dragon rather than the unicorn."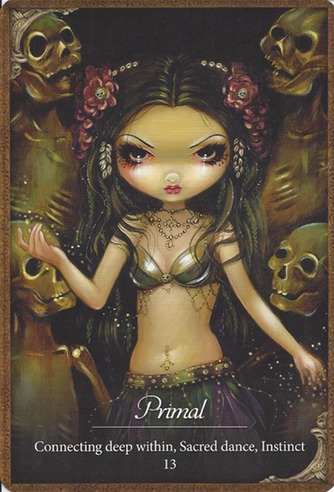 The deck is large, measuring 3 ¾" wide x 5 ½" tall so those that like to riffle bridge shuffle, may need to adjust their technique. Ms. Cavendish gives a couple of shuffling alternatives in the companion guide. The cards are printed on a flexible cardstock with a shiny lamination that was a bit sticky coming out of the box as several cards were stuck together, but with use that is smoothing itself out.  The deck is held together inside the box with a plastic sleeve. The title is on the bottom of each card, followed by key words and the card number.

 The card backs are done in sepia tones and feature an image of a light haired girl, holding a small bouquet of flowers. A black spider is crawling up her shoulder. The image is not reversible friendly.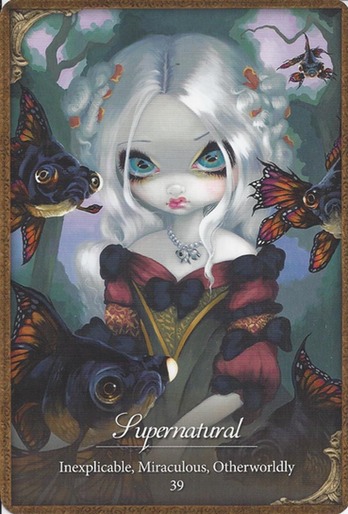 The 44 amazing images by Jasmine Becket-Griffith, are all so gorgeous and mysterious that it is hard to pick a favorite few, so I drew a couple at random. 

The first image I chose to share is Primal, key words are "Connecting deep within, Sacred dance, Instinct." She is alluring and seductive. She has dark brown hair, adorned with flowers and beads. She is wearing purple, green and gold belly dance attire. Her belly button is pierced. In the back ground there are many skeletons waiting for her performance.

 The companion guide says:  "When we dance, we are asked to become our deeper, older and more animalistic self…" and "There is a beautiful part of your soul. Let it stay free and find expression in the world through dance."

 
Another is Supernatural, key words are "Inexplicable, Miraculous, Otherworldly." She has a divine feel to her and her wisdom seems quite deep. She has beautiful silvery white hair and piercing blue eyes. She is dressed in a green, red, gold and black Victorian dress. She wears a silver fish necklace. Even though she doesn't appear to be under water, there are fancy, black moor-type bubble-eyed gold fish floating around her.

 The companion guide says:  "There are many things in this world that most people cannot explain away conveniently…  …And yet, there it is." and "It is now time to begin to understand that the senses that we all have are not special gifts given only to the chosen. We all have them."
Resurrection is an additional image I chose to showcase, with key words "Reprise, Recovery, Comeback." This one definitely is mischievous, and feisty, and maybe even a bit naughty. She has black hair and is wearing a red strapless dress with orange and brown striped tights. She is seated on the ground surrounded by black cats. The sun is setting behind a farm in the back ground.

 The companion guide says:  "You have a chance to make over your life, and rise from what you thought was a stagnant place and have adventures."   
The companion guide introduces Les Vampires and discusses how and why to work with them. There is a 3-card spread called The Trinity, a 13-card spread called The Path through the Night, and a 6-card spread called The Byzantine Cross. 
The remainder of the book is dedicated to the cards. There is a thumbnail black and white image for each card and there are four sections for each image:  Les Vampires Speak, Blessing, Curse, and Working With This Card.
I highly recommend this deck for anyone who is interested in working through darker issues. Anyone who is a fan of Lucy Cavendish and/or Jasmine Beckett-Griffith's previous works, such as Oracle of Shadows and Light would find this an excellent addition to their collection. With the companion guide this deck can be used right out of the box, and can easily be used by beginners through  professional readers.