By Terri C.
King Solomon Oracle Cards by Itzhak Mizrahi and Orna Ben-Shoshan
Published by U.S. Games Systems, Inc.
ISBN: 978-1-57281-666-4
The King Solomon Oracle is a 36-card oracle deck created by Itzhak Mizrahi and Orna Ben-Shoshan. The oracle was inspired by ancient seals that have become powerful symbols for the world's religions.
The deck also includes 4 Amulet Cards, which are not designed to be read as part of the deck, but to be carried with you. The Little White Book says "These charms are written in "Angel's Writing" (which is very runic looking) and they will influence every aspect of your life with their blessings as long as they are in your possession." These Amulet cards represent: Livelihood, Relationships, Health and Security/Protection. The LWB states that one should start feeling the effects of the Amulet Cards within 21 days of keeping them in your possession and that you should carry at least 2 of them at all times.
The cards measure 2 ¾" wide by 4 ½" tall. They have a minimal amount of lamination. The edges of the deck are sharply cut, with rounded corners and the cards are a bit stiff, but should work out well with use. Each card is numbered in the upper right and lower left corner. They are also designed to be read with reversals. The card backs are baby blue, with white "Angel Writing," in the center is the symbol that is on the first Amulet card. The card backs are reversible friendly.
The LWB gives and introduction to the oracle, keywords and definitions for each card in the following areas: Situation, Person, Advice, and Inverted. There are a couple of paragraphs telling the reader, when NOT to do readings, how to ground with the cards and three spreads (a one-card, a three-card and a four-card).
There are many symbols in each card, some are hidden and others are written in "Angel Language." These symbols are included to assist the subconscious mind to conscious mind transfer of information.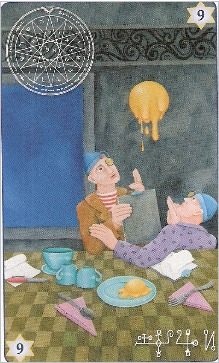 One of my favorite images is Card Number 9. This card features two men with clipboards sitting at a table, each wearing monocles. There is a plate in front of them with what looks like a scoop of ice cream on it. There are overturned cups, and silverware on pink napkins, which makes the scene look like that of a restaurant. Both men are hold a hand up in the air with their first two fingers together and extended, while looking towards the ceiling where another scoop of "ice cream" is melting in the air above them. The keywords for this card are: Learning, Studies, Lessons Learned.
The King Solomon Oracle is very similar to the Lenormand style oracle decks and those who are comfortable with that particular style could easily transition over to this oracle. It would also be a fun deck for someone just getting started, but wants to experience something a little different than the traditional Tarot. To become proficient with the deck will take a little study and use as a daily draw.