By Terri C.
Definitely NOT your grandma's old Tarot Deck!
Award winning artist, Ciro Marchetti (Gilded Tarot, Tarot of Dreams, and Legacy of the Divine Tarot), takes us to a new stage, yet again, with another dazzling and distinctive deck/book set.  The Oracle of Visions is a 52-card, eye-catching oracle deck geared toward the intuitive reader.
Those who have watched the progression of Ciro's work with his previous decks, but have longed to completely break free from the Tarot will not be disappointed.  The Oracle of Visions, which is filled with rich and deep art work, will take your readings to a new standard.  The deck will take you to a level that is beyond a system.  Are you ready to leave the safety net behind?
While many oracle decks will follow a reoccurring theme (Angels, flowers, dragons, etc.) throughout the deck, The Oracle of Visions takes you through 52 stand-alone pieces of art, that not only are unique and visually stunning, but each image brings its own dialogue to the table.  With this deck you will not find a common theme, so to speak, but instead you will find a vast potpourri of jesters, figures wearing masks, Victorian imagery, nature, mechanical devices and more (Yes, I even spotted a couple of Fae).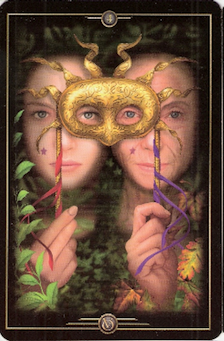 The Oracle of Visions proves to be another "kick ass and take names" deck not unlike Ciro's Tarot decks.  Upon receiving this deck at the 2011 New York Reader's Studio, I shuffled, shuffled and shuffled some more, whilst thinking about how I would get along with this latest acquisition.  I pulled card #4 which features two images of the same woman, one being young and the other old, both faces are emerging from an ivy filled forest, the young woman from the fresh new growth and the older woman coming from the opposite side, where the leaves are showing their fall coloring. Each woman is holding one side of a gold mask each looking through the mask with one eye.  The keywords for this card are "Perspective –Points of View."  The companion book also says this:  "Fresh ideas and experience sharing the same eyes, but a different vision."  Yep, it's a Ciro Marchetti deck!  Certainly do not expect it to pull any punches.  This deck is going to tell you exactly how it is.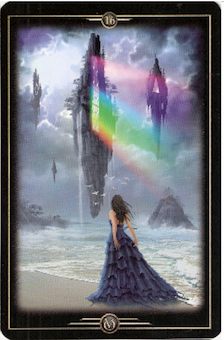 With 52 striking images it's difficult to pick out a favorite, so I randomly pulled one and came up with #16 which features a woman in a long royal blue formal gown, walking along a deserted ocean beach, with waves crashing to the shore and onto the rocky outcrops.  Floating in the stormy sky there are four floating monoliths, the closest having a tall window, through which the sun shines through creating a rainbow.  Keywords for this card include:  Distance, Isolation and Perspective.
The deck itself was printed in Hong Kong and measures 3 ½" x 5 ½" made with a glossy finish over flexible cardstock, with gold edges.  With the deck being larger than average size, most readers will have to adapt from a riffle, bridge shuffle style.  The cards have a very thin black border and the images are outlined in gold, with a card number at the top and a simple but unobtrusive O-V logo on the bottom.  You will not find titles or keywords on the cards themselves.  Hip Hip Huzzah!
The card backs are not reversible friendly and feature a jester's mask in the center of what looks like an ornate gold looking glass on a red leather type back ground with a thin black border.   Non-reversible backs should not be an issue however as the card images do not necessarily fall into a good/positive or bad/negative manner and are designed to be read upright.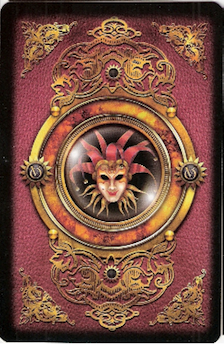 The full color, 80-page softcover book measures 5 ½" x 8 ½" and was written by Ciro.  The first couple of pages describe some of the thoughts behind The Oracle of Visions.   From there, the book takes you on a path through each of the cards, beginning with a smaller, but full color image of each card, to keywords, a quote, and a possible interpretation for each card.   Moving towards the back of the book, you will find where two different readers provide interpretation for the same card.  You will also find a small section about working with multiple cards.  The final pages describe the journey from Marchetti's first Tarot deck (Gilded Tarot), through the process of the Oracle of Visions, which makes an interesting read, for those not familiar with the back story.   
The CD includes an Oracle of Visions puzzle that can be solved individually or as a team.  The first person or team to solve the puzzle will receive a $500 gift token for items from Ciro's website.  The CD also includes  avatars, wallpapers and screen savers.  Last minute changes omitted the "Thoughts and Notes" PDF file from the CD, however, you can download this booklet from the website:  http://www.ciromarchetti.com/ciromarchetti/Free_Downloads.html
This deck does contain some nudity, however it is tastefully done.
The Oracle of Visions is a beautiful body of work and would be a treasure for any fan of Ciro's three other decks.  A beginner could easily pick up this deck and find it enlightening.  The professional reader would find this deck a big draw with clientele and would be the perfect addition for collectors. 
Due to a higher than expected response and interest from the public the print run has been refigured and the expected release date is the end of June 2011.  If you are interested in more release date information, you can send an e-mail to Ciro at cirom@mac.com and simply put "Oracle" in the subject header and he will contact you when the deck becomes available.  If you are reading this review after the end of June 2011, check www.ciromarchetti.com for purchasing information.