By Sheri Harshberger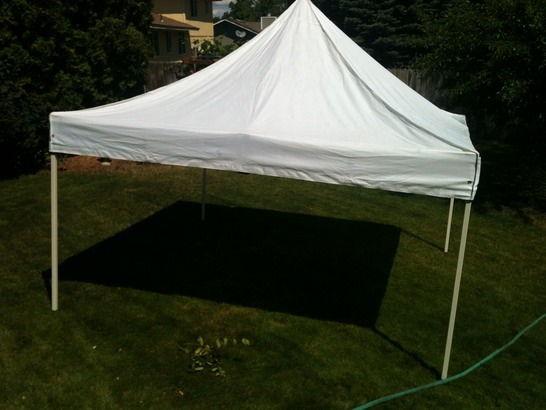 If you read for the public, indoors or out, one of the best investments a reader can make is a 10 ft by 10 ft pop up canopy. I initially got one to make a tent for the first Renaissance Faire that I read at. Since then, I have always had one and have used it for nearly every public venue event I have done, both indoors and out. My canopy also went to my son's wedding a few years ago to be used as a shelter for the wedding party while taking pictures at beaches in Newport, Oregon. It wasn't used, but it was nice to have "just in case" anyway.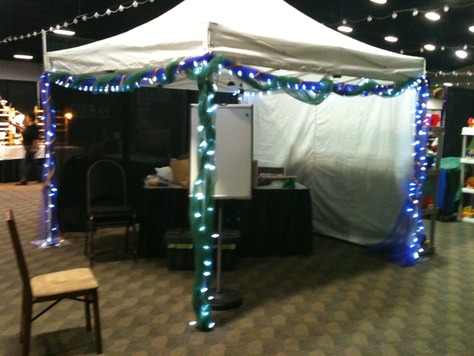 Quality is important. I went through 2 very inexpensive canopies before I got the one I have now. The first one I bought I got online and it broke the first time I set it up. The second one lasted for 3 set ups before the metal bars twisted and it broke. They both had very thin, slanted legs which also affected their stability.
My last one was from King Canopy, and while more expensive, it had more substantial metal legs and bars, and a very stable design… including straight legs. It was more than twice what I had paid for the others, but still was less than $200.00 at the local Costco a few years ago… and that included 4 walls, one of which zips in the center. The walls attach to each other in the corners by zipper and velcro strips that attach around the legs, and velcro across the top of the walls and the roof edges. It is especially nice to have the 4 walls to zip up at the end of a busy reading day and not have to worry too much about the stuff inside. The walls also make the space more private, which is nice for readings. Some walls have windows of clear material in them, which I have seen a lot on wedding shows. My own preference is for the solid, non-windowed walls.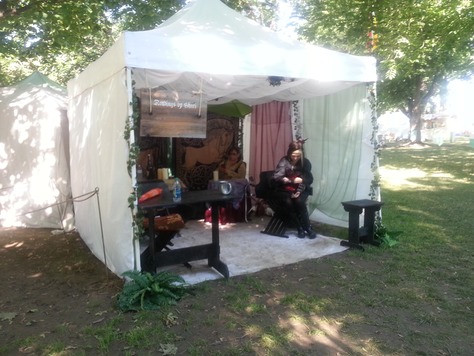 If you think you might use it for Ren Faires, pay attention to the material the roof and sides are made from. Some can look very plastic-like which isn't acceptable at many Faires. The one I got has a canvas-like look to the material, which was okay.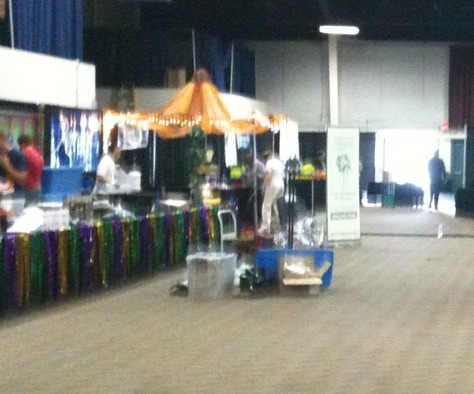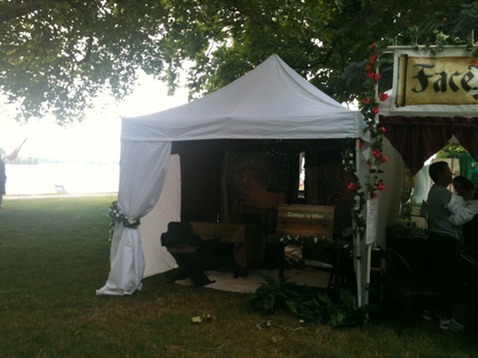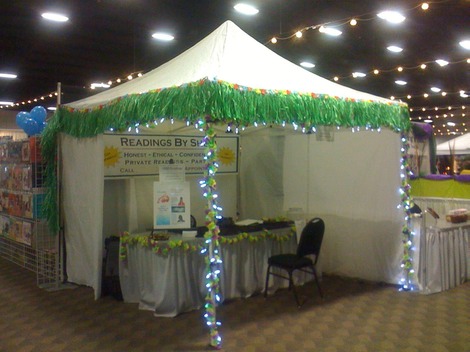 Popups can be decorated a million different ways. You are limited only by your own creativity. Have a look at the next Ren Faire or indoor expo you attend. Many people will replace the white or other colored "stock" roof material with something else. Check out the picture to the right which shows a vendor's popup roof that was replaced by tulle in browns and oranges for fall at a business expo. It was spectacular… apologies for the quality of the picture, I was in the middle of setting up my own popup for the event and planned on going back, but never had the time to. I like to embellish the inside to hide the interior metal bars and bracing when I do Ren Faires. If you have the walls, you can pull the sides back and tie like curtains to help hide the metal legs.
Popups come in many sizes ranging from 10 ft by 10 ft and up. Other than the 12 ft by 12 ft size, most dimensions are in 5 ft increments (10 x 15, 10 x 20, etc.). I have found that most venues allocate space in corresponding dimensions starting with 10 x 10, most likely because of the popularity of the 10 x 10 popup with businesses of all kinds.
Some outdoor venues may provide popups for readers, but it's very nice having your own when you need it. Next to my trusty reading decks, my popup canopy is the best investment in reading equipment I have ever made.