Review by Terri Clement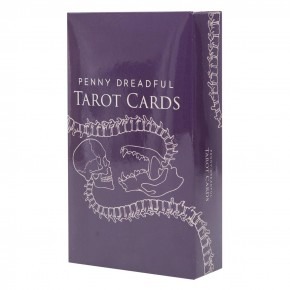 Penny Dreadful Tarot Cards 
Exclusive to Showtime®, http://store.sho.com/penny-dreadful-tarot-cards
SKU ID #523695
Retail:  U.S. $14.95
The mysterious and sensual Penny Dreadful Tarot deck was created exclusively for Showtime's® latest psychological thriller series of the same name.  Given that the deck is designed for use in a 19th Century horror genre television series, it does not disappoint.  You will find spiders and skeletons, and many other creepy but intense beings.  You will also find some nudity, but it is tastefully done.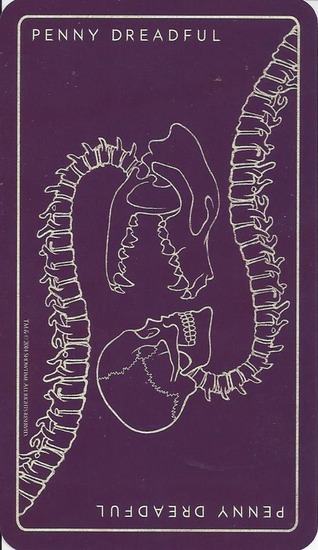 The deck is a full 78-card Tarot including both the Major Arcana and Minor Arcana.  The Majors are not numbered, but all are traditionally named.  The Minor suits are Wands, Cups, Pentacles, and Swords.  The Courts are named Page, Knight, Queen, and King.  This is a non-scenic pip card deck.
Also included with the deck you will find a single card that gives keywords for each card in the deck along with a simple 3 card spread titled "The Veil."  You will also find a Showtime® logo card.
The crisp images are printed with off white ink and seem to pop off of the purple background.  The cards measure 2 ¾" wide x 4 ¾" tall.  They are made of a flexible card stock with a light laminate.  This deck riffle-bridge shuffles and fans beautifully right out of the box.  The card backs are not reversible friendly.  While the deck cards are smooth, the instructional card is a bit rough
Penny Dreadful Tarot does not follow the Rider-Waite-Smith school, but those very familiar with that system should have no trouble using the deck straight out of the box.  Others may find they want to develop a different reading style using this deck.  It may take some practice to become proficient though, with the non-scenic pips.  One might want to incorporate a little more numerology or something of the like…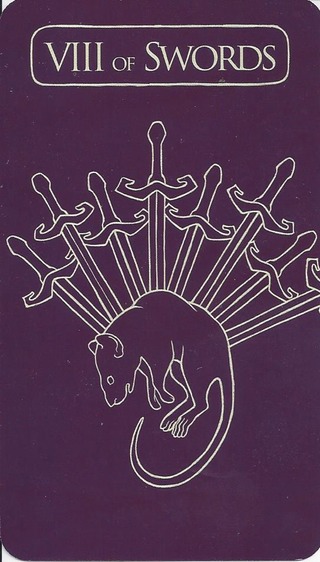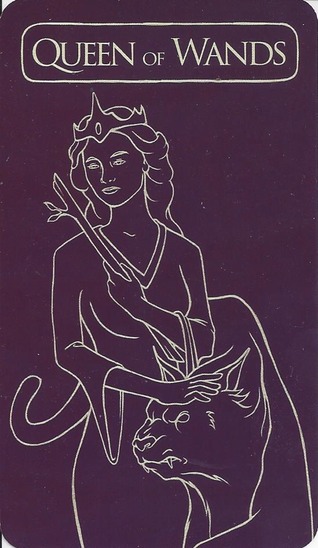 The Star is represented by an arm and claw-like hand extending down from the top of the card.  The instructional card reads:  "Hope, good omen, purity of spirit, benefit."
The Queen of Wands is a beautiful, crowned woman with long hair, holding a wand in her right hand, crossing over hear heart, while her left hand caresses a large cat like creature.  The instructional card states:  "Friend, trusting, listening."
The VIII of Swords features a rat with 8 swords piercing it's back.  The instructional card says:  "Self help, harmony."
Shipping was very fast.  I pre-ordered the deck and it arrived well before the estimated ship date.  The fold top, light cardboard box itself had a small nick in the front, but otherwise everything was in excellent shape.
The deck is only available from Showtime's® online store and artist information was not available at the time of this review.  
This would be a fun deck to add to any collection and a must have of the Tarot enthusiast who is also a fan of Showtime's® great new hit.