By Terri Clement
Using Tarot of the Gnomes by Antonio Lupatelli…
At this time, the garden is in full swing and the canning has started. Due to super hungry deer it looks like I probably won't be putting up any home grown green beans this year, nor will I have any peas. Why can't the deer eat the weeds? That would be too easy…
I thought we would go a different direction this month and check in with the Gnome clan and see what they have to offer us for the month of August…

The beginning of the month you may find yourself in a bit of a grumpy mood. That's okay - we all go through that sometimes. Honor the feeling, determine the source and see what changes you can make. At this particular time, you may find yourself wanting to jump in and fight someone else's battle. Check yourself here before you jump in with both feet. You may need to fight this battle for yourself not someone else. Be sure to clean up your own backyard before you start in on someone else's.  
This is a time to get things done so you can rest later. During this bit of a stressful time be sure to find ways to let your hair down, take off that armor and let go of the worries of the day!  
Around the middle of the month, the stressors seem to fade into the wind and you find time to pay attention to the little things that make up the nicer parts of your life. Remember, whatever we feed – grows!  So pay attention to what you are feeding. This is also a time to "give." So, is it time to go through the closet and donate some things to charity? Is it time to do some volunteer work? This will help clear the way for even better things to come into your life.
Towards the end of the month it is important to remember that not everyone is on the same path. This is truly a good thing. Just try to remember to put judgment aside and be humble. Do what works for you, use the tools that you have been given to accomplish great things and reap the rewards. Decisions made during this time should not be taken lightly, especially if those decisions impact others. Look at situations at this time, from all directions and from everyone's perspective before you decide which course of action you are going to take.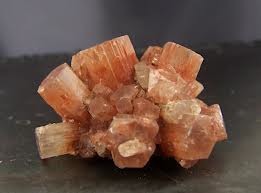 A nice stone to carry this month is Aragonite.
This stone helps center and ground physical energies and is very useful during times of stress. Aragonite can help prepare for meditation. It provides insight into causes and problems. Helps concentration and brings tolerance. It can help combat anger and emotional stress.
Aragonite can help bring warms to extremities, helps combat Vitamin A and D deficiencies. It can also help with general aches and pains.
Being a soft mineral the Aragonite should be worn in necklaces or earrings only.
*Stone healing properties are not intended to replace the advice of your doctor.
As always, I hope you find that this message from the Fae helps guide you through the ups and downs of this month!!  Remember to say a special little thank you to our Fae Friends for the guidance, insight and entertainment!
See you again, next month and keep the faith!