Fin De Siécle Kipper
Standard Edition
Review by Terri Clement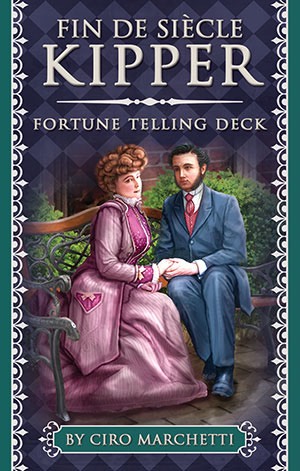 By Ciro Marchetti
Published by U.S. Games Systems, Inc.
www.usgamesinc.com
ISBN-13: 978-1-52781-846-3
ISBN-10: 1-57281-845-X
Retail: $21.95
Released 2016



It is no secret that I am a huge fan of Ciro Marchetti's. I LOVE his work. He always seems to be one step ahead of the game. With that it mind, it is a pleasure to say that in the true form of Ciro Marchetti and U.S. Games the Fin De Siécle Kipper Standard Edition is a visually rich, colorful, and lovely deck.
The Kipper system is traditionally a German fortune telling deck. Mr. Marchetti has taken this system and set it in the 19th Century in Victorian England while still maintaining the basic concept and numbering. The Fin De Siécle Kipper set has an expanded 39 card deck and an 84-page companion booklet. If you are unfamiliar with the Kipper system feel free to check out my article from a previous issue of Tarot Reflections. You can find that article by clicking here:  Kipperkarten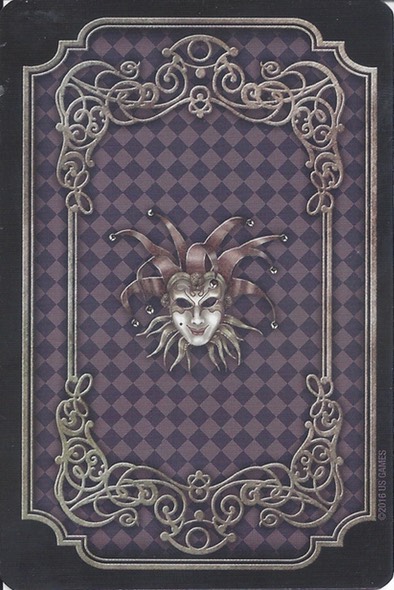 This deck fits comfortably in the hand. They measure in at 2 3/4" wide x 4 1/8" tall and are covered in a shiny laminate. The cards are flexible. They shuffle and fan well. The edges are silver-gilt. The card backs have a gray and black nonreversible back featuring a jester in the center. The companion booklet measures the same width and height. The set is housed in a heavy-duty cardboard box with a magnetic closure. The cover art is that of the 4 - Courtship card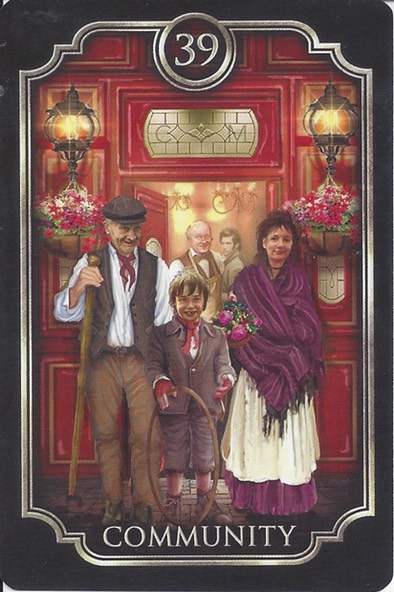 The deck features workers as well as wealthy folk during the Industrial Revolution. There are 3 extra cards in this deck; 37 - Poverty, 38 - Toil & Labour, and 39 – Community. These cards were added in order to round the deck out a more realistic perspective of what people were experiencing at the time, both good and bad.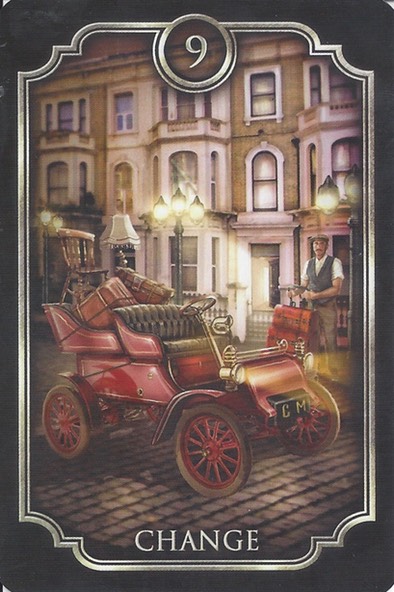 Here are a few cards that stand out to me:
9 – Change
I like this card because like many fans know of Mr. Marchetti this is the building he lived in as a child. This can indicate a change such as a change in arrangements or a career move.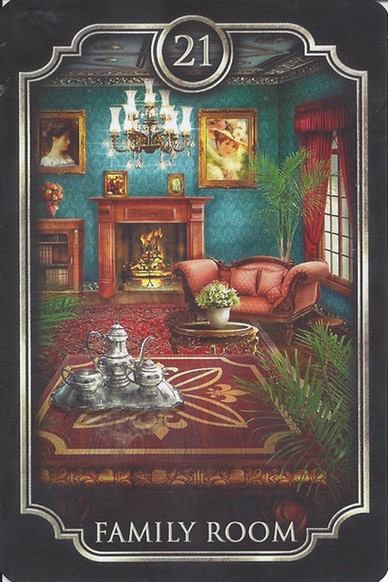 21 – Family Room
This image stands out to me as it looks like the room that I do professional readings at in a Victorian mansion here in my area. When this card comes up in a reading it can indicate your home, privacy, in the room, and anywhere from 24 hours to 4 weeks.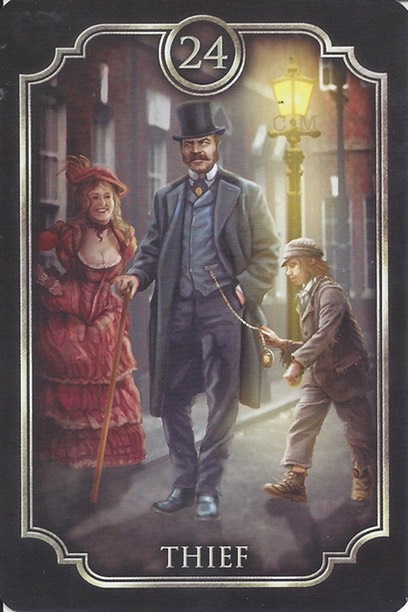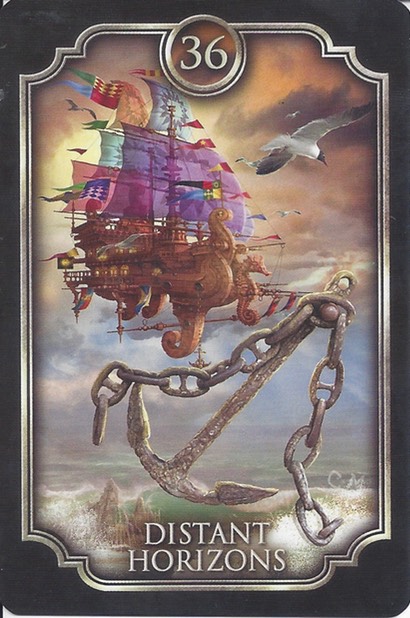 24 – Thief
Here we have a street urchin attempting to pick-pocket a finely dressed but distracted man. This is a negative card and represents an actual theft, embezzlement, or loss. Something is missing, few, or fewer. This could be something physical or even something on the emotional level, such as love.
36 – Distant Horizons
I chose to share this one as it reminds me of the flying ship from the Stardust movie. Though this image is much more colorful and dream-like. This is the card of dreams and fantasies. This can represent the silver lining in the dark clouds. It is positivity coming to fruition.


There is a special app from Aurasma that you can download to your smartphone or tablet; this app makes the cards come to life.
In the booklet, you will find how the Fin De Siécle Kipper came to be, why some of the cards have been changed and the reason some were added. With so little written in English about the Kipper, it is a treasure to have the card meanings and descriptions from 3 experienced contributors: Fortune Buchhotlz, Stella Waldvogel, and Susanne Zitzi. Ms. Waldvogel and Ms. Zitzi each provide a spread in the back of the booklet that is vastly different than a tableau type spread.
While I have been using the limited edition copy of this deck since November of 2015, I am super excited to finally have the standard edition in my hands! Anyone who is interested in evolving their Lenormand style readings into Kipper readings or those just getting started with this fortune telling style would find the Fin De Siécle to be a nice addition to their personal collection.
Review copy provided by U.S. Games Systems, Inc.