Review by Terri Clement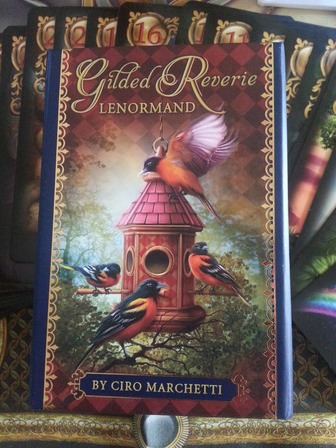 Gilded Reverie Lenormand by Ciro Marchetti
Published by U.S. Games Systems, Inc., www.usgamesinc.com
ISBN: 978-1-57281-754-8
Retail U.S.: $19.95
Bravo! Ciro Marchettie and U.S. Games Systems, Inc. have out done themselves yet again! The Gilded Reverie Lenormand is an exquisite body of work. Fans of Ciro's work and those interested in working with the Lenormand will not be disappointed. Rich, vibrant, jewel-tone colors and gilded edges of gold give this Lenormand a refreshingly modern look.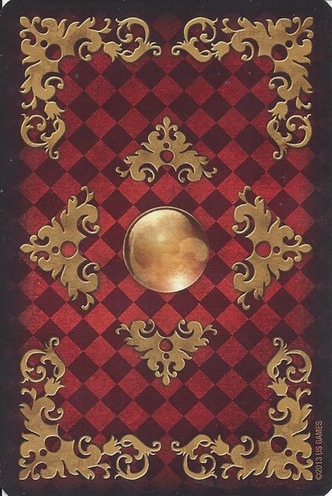 The Gilded Reverie is a standard 36-card Petit Lenormand deck, however, there will be a bonus pack that can be purchased separately from U.S. Games with includes the 7 bonus cards (Time, Bridge, Dice, Mask, additional Man and Woman cards, and an extra Birds/Owl card) that were in the collector's edition along with a surprise card.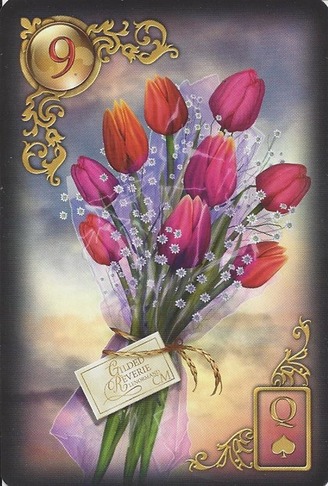 The card backs are done in a red checkerboard pattern with gold filigree over the top. The card fronts do not have a border instead the art fades out to black edges. The cards have a glossy laminate and are flexible, but the deck is a bit stiff to shuffle. The cards measure 2 ¾' wide by 4 1/8" tall.
The deck comes with a 48-page Little White Book with card meanings and descriptions written by Rana George and Tali Goodwin. It also contains 3 spreads. Ciro has a companion document on his website that can be downloaded. This is a 140-plus pages, in color.  http://www.ciromarchetti.com/Lenormand.html.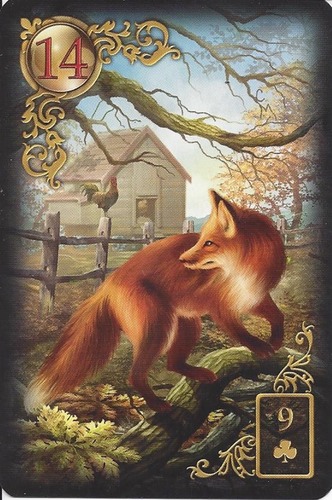 The box is a brilliant design, with a magnetic closure and is very sturdy. It can definitely hold up in a purse or backpack.
With so many beautiful images it is hard to pick a favorite few to showcase, so here are some random card descriptions.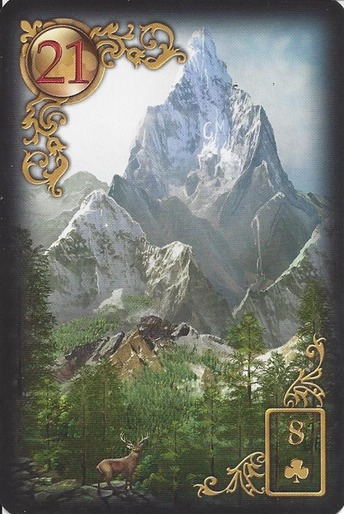 Flowers – 9 beautiful pink tulips are all wrapped up with a gift card that has the name of the deck on it. The LWB says "I am the gift that warms your heart."
Fox – A sly fox looks back over his shoulder at the rooster who is standing on a fence. There is a barn in the background. The LWB says "I might be planning your fall. I am master of manipulation and I am going to fool you all. Craftiness is my fame and "sneaky sneaky" is my game."
Mountain – A snowcapped mountain peak in the distance and a buck standing among the trees in the foreground.  The LWB says "…The mountain appears to us as an almost impossible obstacle."
The Gilded Reverie Lenormand should be on everyone's "must have" list this year.