By Terri Clement
Using the Enchanted Oracle...
Well, Jack Frost has certainly been busy visiting my house!!!  This makes for crisp, cold yet very beautiful days.  The garden has been winterized and I've finally started my holiday shopping.  This year I am trying to go at it a little bit at a time.  I truly do not enjoy shopping and particularly do not like the frenzy in the stores, so I am actually making as many gifts as I can this year.  We have been experimenting with candles and flavored oils and vinegars, it's been quite fun.
Let's see what advice the Fae have for us for this busy month…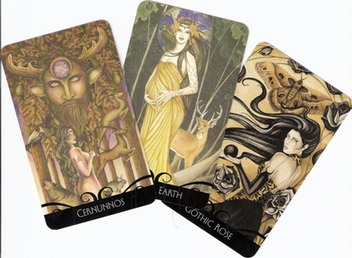 During this very busy and chaotic time, it's important to remember the reason for the season and reconnect with your personal beliefs.  Share the traditions that have been passed down through the generations in your family, celebrate the new traditions that reflect your own values.  Don't forget the important, spiritual connection with earth and nature.  Let yourself go.  Indulge just a bit.  Enjoy yourself.  Honor all of your senses, but don't go overboard.
Even though you may be in a region where it is very cold, do try to spend at least a couple of minutes outside every day.  During the colder months, we have to close up our homes and we get very little fresh air.  Bundle up, put on your mittens.  Park a little further from the stores and walk a little, even just a couple days a week, will do you well.
With everything that is going on this month, it's important to keep your home as stable and comforting as possible.  Let your home be your sanctuary from all of the hustle and bustle.  Smudge.  Light some incense or candles, cuddle up in a blanket, play beautiful music softly for background noise.  Place some rose quartz around inside your house, for healing and love, especially in rooms where you and your family spend a lot of time.  Greet all those who enter your home with love, give them a hug or at the very least a smile.  Try to make your home your place of comfort.  
If you find yourself in a place where you feel completely overwhelmed, it is okay to withdraw for a short time.  Maybe it's time to metaphorically put yourself in a cocoon and take care of yourself.  It can be times like this when we grow the most, so don't look at it as a bad thing, for it can be very, VERY good!  Just don't allow yourself to stay in this withdrawn state too long.  It can be easy to go there and just stay and that would not be healthy for anyone.  You may even want to give yourself a time limit.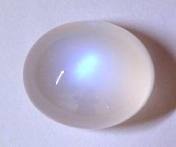 A nice stone to carry this month is the Moonstone.  This stone is used for inner growth and strength.  It can help sooth emotional situations and provides calmness.  Moonstone can also enhance intuition, promote success, good luck in love and business matters.  
Moonstone can help the digestive system, eliminate toxins and fluid retention.  It can also alleviate conditions of the skin, hair, eyes, liver and pancreas.  It can help balance hormonal cycles and it's excellent for PMS.
As always, I hope you find that this message from the Fae helps guide you through the ups and downs of this month!  Remember to say a special little thank you to our Fae Friends for their guidance, insight and entertainment!
See you again, next month and keep the faith!