Review by Sheri Harshberger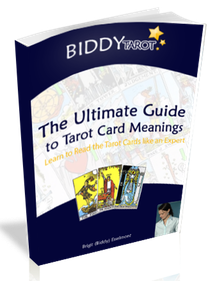 The Ultimate Guide to Tarot Card Meanings by Brigit "Biddy" Esselmont, www.biddytarot.com
The Ultimate Guide to Tarot Card Meanings is a new, self-published eBook by professional Tarot card reader, Brigit "Biddy" Esselmont. It is currently available on her website, www.biddytarot.com in several different formats, including PDF, …. and Kindle (to name a few). The version I received was in the PDF format.
I was stunned at the size of this book--a whopping 330 pages! This eBook is very well and professionally done. She literally covers everything! Despite the daunting size, this tome is an easy read due to the formatting, use of color, organization, and most of all, the content.
She features the iconic Waite Smith Tarot cards throughout, bringing her own techniques working with it in great detail but in a very understandable way. What's even better is that she also has a companion workbook available, facilitating a reader studying her concepts to really nail them through practical exercises, and then build their own Ultimate Guide! The Workbook is an interactive, fully editable file, allowing the reader to fill out the sections on the cards with their own meanings. How cool is that? Very!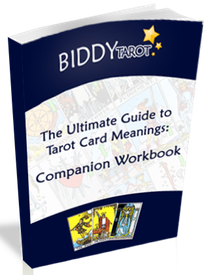 Although she uses the Waite Smith, any deck a reader uses could be substituted as the focus of the book isn't to work with the Waite Smith specifically, but to use it to illustrate the concepts of working with "a deck." Actually, her approach can work with any oracle, not just Tarot, which is a real bonus.
As you would expect, the book is very integrated with Biddy's site. Throughout the book, links are provided so that the reader can get more information. She also provides contact information so that readers may contact her with any questions or comments.
As an eBook, this book is easily downloaded onto a computer or eReader, the latter making it very easy to take this large book anywhere a reader might go and need a good reference to refer to (it would be much harder to tote around a 330-page soft or hardcover book!).
This is one of the best comprehensive Tarot books I have read, and it's in a convenient form. I highly recommend it to new readers as well as experienced readers who are looking for a good, comprehensive Tarot reference book. And, anyone looking for a way to organize their ideas and experience into a eBook format will love the workbook!