Review by Terri Clement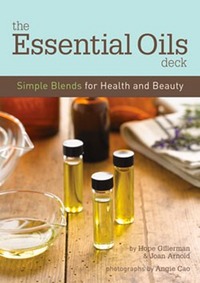 The Essential Oils Deck by Hope Gillerman and Joan Arnold
Published by Chronicle Books, www.chroniclebooks.com
ISBN:  978-0-8118-6730-6
This unique product called the Essential Oils Deck, by Hope Gillerman and Joan Arnold, is published by Chronicle Books in San Francisco.  The deck is geared to those who use or want to learn to use Essential Oils for health and beauty.  One might consider it a great beginner's recipe box for using Essential Oils.
The deck arrives in a very sturdy, lift off top cardboard box.  Upon removing the deck from the box, you will discover a 3-card width tri-fold that provides an introduction to Essential Oils, how to use the deck, personalizing blends, how to select oils, and how to mix and store your blends.
The 50-card deck itself is printed on a very stiff, matte cardstock with a variety of images, from fruits, blended oils, flowers, leaves and seeds.  The 50 cards are broken up into 3 different categories:  1 – 33 are Essential Oil cards (with card 01 titled Safety and Testing), 34 – 43 are Uses cards, the remaining 7 are Instruction cards.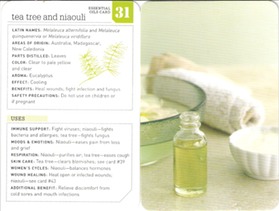 Each of the Essential Oil cards includes the following information:  Common name of oil, Latin Name, Areas of Origin, Parts Distilled, Color, Aroma, Effect and Benefits.
Then uses are listed below that information, which might (but not limited to) include:  Moods & Emotions, Skin Care, Women's Cycles, Immune Support, Wound Healing and Additional Benefits.
The Uses Cards which contain words on both sides contain recipes for some of (but not limited to) the following:  Digestive Aids, Respiration, Sleep Cycle and Spiritual Practice.  The opposite side of these cards list out specific oils for precise uses within each category such as using geranium, lavender, palmarosa, rose, rosewood, sandalwood or sweet marjoram for dry skin.
The remaining Instructions cards explain how to make Anointing Oil, Body Oil, Massage and Bath Oil, Inhalation Blends among others.
This is a new way to present this type of information in a convenient package.  The durable box can easily be dropped into your bag or purse without worry of damage to it.  It can serve as a jumping off point for those new to Essential Oils or a handy reference product for those already using oils.  This product could be a fun stocking stuffer for the upcoming holidays.