Review by Terri Clement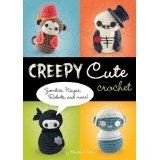 Creepy Cute Crochet by Christen Haden
Published by Quirk Books, www.quirk.com
ISBN: 978-1-59474-232-3
Retail: US $14.95/$16.95 Canada
Might you be looking for something crafty and a little quirky for your favorite Tarotist?  Do you like to crochet and change things up a bit to fit your imagination? Creepy Cute Crochet has 20 basic patterns. These unique patterns include vampires, zombies, ninjas, aliens, robots and more. The dolls are adorably cute and with a little creativity could easily be converted to your favorite character in the Tarot. 

The difficulty levels range from Beginner, to Intermediate, to Epic, however, as a long-time crocheter, I consider this an Intermediate to Advanced book. All of the patterns call for easy to find materials, such as standard Red Heart yarn and an U.S. size E crochet hook. Most of the patterns start with the basic parts and then special things are added.

 Each pattern is written out and does require a bit of counting or possibly even stitch markers. I do believe that the patterns could be made a bit easier to understand. There is a crochet chart for each pattern as well, that uses symbols for each stitch. You will also find an abbreviation legend.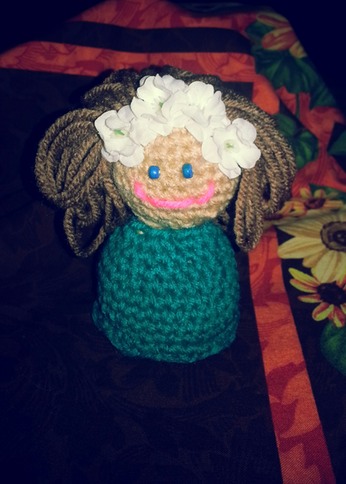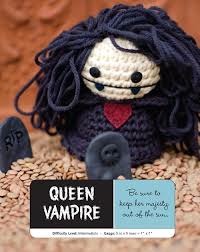 There are details to assist the beginner and information about special techniques such as color change and fastening off. There are also some explanations for some of the new techniques in the crochet world, such as the "Magic Circle" that many of us old-school crochet crafters may not know. You will also find a section for embellishments and weaponry. 
I worked quickly through the pattern (once I understood the pattern) for the Queen Vampire converting her to a less creepy Empress. Her head and body worked up nicely until I got to the very bottom of her dress and I had a bit of a challenge interpreting the final round instructions. So I improvised and finished her off with a scalloped edge. 

Another challenge came to working the "hair." The book did not provide very detailed instructions and I was feeling quite clueless. I hopped online and found the authors website, where there is a tutorial which made things MUCH easier to follow:  http://needlenoodles.com/home/?q=node/83. As this is a new technique to me it took a bit of time making the fringe, but I was able to do it while watching television. All and all, it took me about 2 – 2 ½ hours to make my Empress.

 Other than the couple of minor challenges, and having to improvise a bit, this is a fun project book and would make a very nice gift for the Intermediate or Advanced crocheter.