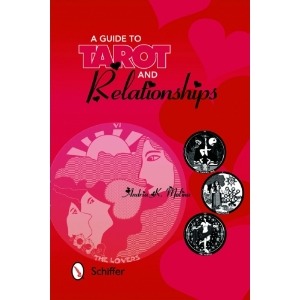 Review by Terri Clement
A Guide to Tarot and Relationships by Andria K. Molina
Published by Schiffer Publishing, Ltd.,  www.schifferbooks.com
ISBN:  978-0-7643-4232-5
Are you looking for a way to take your relationship readings to whole different level? Would you like to expand your personal meaning database for each card? If you've answered yes to either of these questions, you might want to check out one of Schiffer's latest releases. A Guide to Tarot and Relationships is a practical guide designed to help the reader use Tarot to enhance their personal relationships and take them to a deeper level.
The Gorgon Tarot by Delores Fitchie illustrates this 160-page book and provides striking and thought provoking imagery though out.  
The book begins with three spreads and moves quickly into some sample readings. It goes on to give a very brief introduction to Chakras, Numerology and Elements. It then moves into the Major Arcana, for each card the book the beginning section gives a Key Word or Phrase under the title of each, a Planet, a Ruling Sign, the related Chakra, along with the location of that Chakra. The 2nd section for each card gives a relationship based interpretation, a metaphorical interpretation, general meanings, a question statement, an affirmation and a time frame.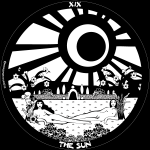 When it comes to the Minor Arcana, there same information is provided as for the Majors, except there is no Planet or Ruling Sign. The minors are in number order, so you will find all of the Aces together, the two's together the book follows this pattern through the Royalty cards.
Here is an excerpt about the Sun card: Key Phrase: Candle that is lit. "Hope and courage are the two themes of this relationship.  You and your partner are hopeful that things will work out for the both of you.  …Relatives around you, or your partner's family, may focus on too much of the external appearances or accomplishments of you or your partner." The Question Statement for this card is:  What is one thing that is clear in your situation and one thing that is not clear? Timing for this card: 1 week, Sunday, 7th day or 8th month, late summer, July 23 – August 22.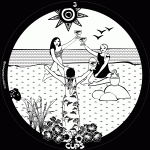 Here is an excerpt about the 3 of Cups: Key Phrase: Associated with acceptable vs. unsatisfactory. The metaphorical interpretation states:  "Going on a sunny Caribbean island vacation can fun and relaxing; then in the middle of it the air conditioning breaks down, so frustration and confusion can be felt…" The Affirmation for this card:  I celebrate life's lessons. Timing:  3 days, 3 weeks, 3 months, 3rd day of the week, June 21 – July 21
As one with no experience in Astrology, personally I would have liked to have read more information about where the timing comes from.
A Guide to Tarot and Relationships is clearly written and can easily be used and understood by the beginner all the way through the professional reader. I embrace this writer's style of "take what works for you and leave the rest."