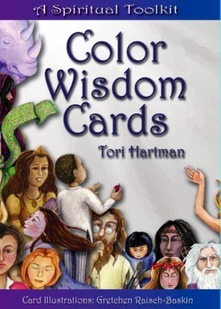 Review by Terri Clement
Color Wisdom Cards: A Spiritual Toolkit by Tori Hartman with illustrations by Gretchen Raisch-Baskin
Available at www.torihartman.com
ISBN: 978-0-9679544-2-4
Have you ever wanted to learn more about color and incorporate working with color into your personal life or maybe even helping your clients? The Color Wisdom Cards may be just what the doctor ordered. The author Tori Harman is a psychic, intuitive and color expert.  This spiritual toolkit which was developed after Ms. Hartman had a near death experience.  It contains a 51-card deck and large informative companion book. After becoming familiar with this kit, you may not look at your Tarot deck, your wardrobe, or any use of color the same ever again!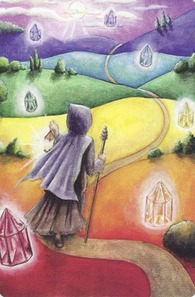 The card deck arrives along with the companion book, in a slide off top box. The book sits on top of the plastic sealed deck, which fits into a cardboard recess inside the box. The cards measure 3" wide x 4 ½" tall. The deck smells a bit inky coming out of the plastic, but that should dissipate quickly. The cards have a very light laminate and are a bit sticky. They do not fan easily, but riffle bridge shuffle well. A dose of fanning powder is recommended. The deck edges are a bit sharp, but with use should soften.  The card back is gorgeous and not reversible friendly, however, the deck is meant to be used in the upright orientation as there is a balance between positive and negative throughout the deck.
The back of the card shows a purple hooded figure making its way down a path which leads through rainbow hills and valleys. The card fronts have and 1/8th of an inch white border around the sides and top and a ¾" border on the bottom which contains the card name.
Looking at a couple of individual cards randomly pulled:
Sage – This card is the card of Wisdom.  It features a Sage Priest on the left and Mother Earth on the right. A dove soars above while two sage bushes with faces are featured in the foreground.  According to the book, Sage is earth green and represents the green of unconditional love and brown of earth energy. This card will come up when you have nothing to prove and you choose simply to be wise. This can also be a time to stop talking and start listening. The meditation for this card begins at a campfire at night.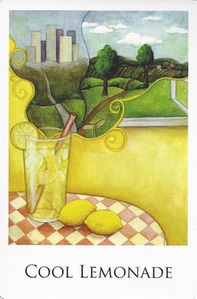 Cool Lemonade Is the card of Prayer. Wisdom and intelligence comes into play here. In the foreground you see two lemons and a glass of icy lemonade. Out the window there are two scenes. To the left is a city skyline and to the right is rural farmland. According to the book, the energy of lemonade is precision. You are creative, willing to cooperate, have the ability to see the details and correct any imperfections. This is also about realizing that sometimes prayer is not about asking for something, but asking how to be of service.
The 385-page book itself is large, measuring in at 9" wide x 6" tall x 1" thick and begins with a detailed introduction moving on to sections for each color grouping, meaning all of the green hues are together, and all of the blues are in one section, etc., and are arranged in order of the rainbow, Red, Orange, Yellow, Green, Blue and Neutrals. Each topic is thoroughly covered. For each card you will find a larger, grayscale image of each card, an original based fable, definition of the color, a journaling prompt, a group activity, a meditation, insights and inspirations for each card. The remainder of the book offers layouts for setting intentions and family dynamics which also includes some sample readings.  
The artwork has an Elizabethan – Renaissance era feel, but is similar in style to works by Orna Ben-Shoshan. The use of the jewel tone color is very rich and eye catching.
I would recommend this deck for anyone looking to find some insight into what is going on in their life, what may be blocking them from moving forward or who want to look at family dynamics in any situation. This could be a great kit to work with clients, one on one or in group play/therapy. This deck could also be beneficial for those who write creatively.