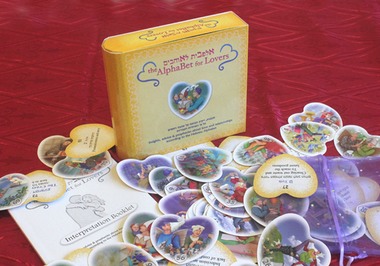 Review by Terri Clement
The AlphaBet for Lovers by Orna Ben-Shoshan
Published by Kabbalah Insights, http://kabbalahinsights.com
Who hasn't wanted more information and understanding about their close relationships? Orna Ben-Shoshan brings us another one of her unique products to help with those exact questions. The AlphaBet for Lovers is designed for those who are interested in gaining insight and advice about their love life as well as other relationships, such as Manager/Employee, Parent/Child and any other human connection.
This kit is packaged in a bright yellow slide off top box and includes 72 heart-shaped cards, 104-page interpretation booklet and a sheer, sparkling polka dot and purple drawstring bag. The cards are based off of the Hebrew 22-letter alphabet.
The heart shaped cards measure 2 ¾" inches across. They are very flexible and have a shiny lamination. One side of the card features the card number on the bottom and an image and is surrounded by an 1/8" white border. The opposite side of the card shows the card number in the top center, with the Hebrew Letter underneath the number, a Hebrew key phrase and an English key phrase. This side of the card has a golden ¼" border fading into a white sandy looking center.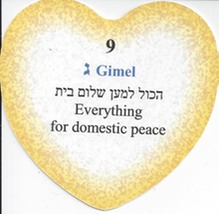 The Interpretation Booklet measures 5 ¼" wide by 5 ¼" tall. It explains a bit about the 22 Hebrew letters, the Kabbalistic Book of Creation. It also briefly introduces the Tree of Life. The booklet goes on to explain how to work with the hearts with examples of questions that you can ask them. The booklet also contains a variety of spreads from a one card spread to a Personality Compatibility Spread. It then goes on to the interpretations. For each card it gives a detailed explanation that backs up the key phrase from the card, then gives a section of people who are single, a section for personality (based on your first name) and advice.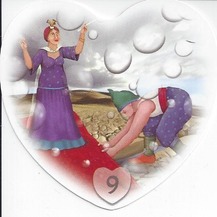 Card number 9 shows a woman dressed in a purple and blue gown with a red head-dress standing on a red carpet blowing bubbles with a bubble wand, while a man dressed in a tan shirt, purple pants and green cap is pulling on the side of the carpet. This card is affiliated with the Hebrew letter Gimel and the key phrase is "Everything for domestic peace." The Interpretation Booklet states that one of the people in the relationship has taken the active role as the adult always attending to the needs of the other instead of finding a balance and taking care of himself. As a personality, this is someone who constantly gives of himself to the point of self-neglect.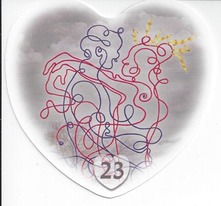 Card number 23 features a man fashioned out of blue ribbon and a woman made out of red ribbon in an embrace. This card is linked to the Hebrew letter Chet and the key phrase is "overwhelmed by emotions." The Interpretation Booklet states that this relationship is based on attraction, and kindness not intellect. There is also a warning about being careful not to lose control as there could be some possessiveness that goes along with this particular card. For single people the booklet says "A charming serial seducer has caught you in his net…"
Card number 72 is a bonus card and is not connected to any of the Hebrew Letters. This card shows a woman dressed in white, wearing a veil, sitting on a swing and holding a candlestick. There is a man dressed in yellow floating behind the woman. This is the Crazy Heart card and indicates luck in love. The Interpretation Booklet states "Congratulations! Love conquers all! All your wishes come true, your dreams and desires are fulfilled with divine intervention and luck in love."
This kit is designed to be used for "self-counseling," however, Ms. Ben-Shoshan does give a technique in the booklet that explains how you can use it to read with others. This is a fun kit for those of you who are working on relationship issues. It might also prove to be a valuable tool for Life Coaches who focus on relationship issues with their clients.