March 2017
By Terri Clement
Using The Faerie Guidance Oracle by Paulina Cassidy, published by Llewellyn Worldwide.


Well, here we are and as usual, March is coming in like a lion here in the PNW. Mother Nature just can't decide what she wants to do. She seems to be changing her mind about every 15 minutes! This wacky weather does give us a chance to focus on spring cleaning and finishing up those last little winter projects. As we get closer to the equinox it will be time to smudge and charge up any of your healing crystals that might be in need.

Let's see what guidance our Faerie friends have to share with us for the month of March...
Our first reminder is to always be the "Dreamer." When you stop dreaming, you stop growing. Allow yourself to imagine the castle in the air. Invigorate your senses. Dream of what you can achieve. Dream about your goals, your abundance, and your good health. This would be a fantastic time to build a "Dream Board."

Try new things. Try new flavors, take a cooking class, have a themed potluck with your friends. Listen to a different radio station.

The middle of the month is a good time to focus on energetic healing. Our energy field is constantly being affected by internal and external influences. Practicing simple energy healing techniques is vital to our overall health, happiness, and vitality. Maybe try acupuncture, crystal healing, Reiki, singing bowls, or flower essences.

The last 10 days or so of the month you might find that you need to polish your communication skills. Start by listening. Listen to hear, not respond. Those are two different things. Pay attention to your body language, eye contact, hand gestures, and tone.

A nice stone to wear or carry this month is Ametrine.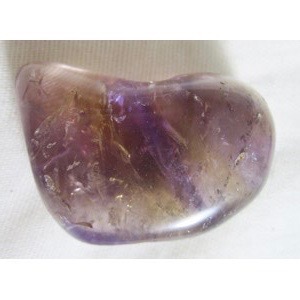 Ametrine helps calm the mind, clear stress and tension. It relieves depression. It can enhance compatibility and acceptance of others. It can help you take control of your life. Brings in clarity and concentration. It can create change and ease times of transitition.

Ametrine can boost the immune system and help the nervous system. It can heal physical, mental, and emotional exhaustion. It can help with allergies and digestion issues.
*Healing properties are not intended to replace the advice of your doctor.

As always, I hope you find this message from the Fae helps guide you through the ups and downs this month. Remember to say a special little thank you to our Fae Friends for the guidance, insight, and entertainment!