Review by Terri Clement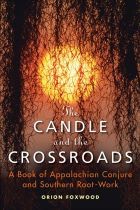 The Candle and the Crossroads
A Book of Appalachian Conjure and Southern Root Work
By Orion Foxwood

Published by Weiser Books
www.redwheelweiser.com
ISBN: 978-1-57863-508-5
Retail: U.S. $19.95


Curious what happens at the crossroads of life? Want to work with your ancestors? Want to bring more magic into your life using old traditions? If so, The Candle and the Crossroads - A Book of Appalachian Conjure and Southern Root Work might be an excellent place for you to start.
This winter, I once again had the pleasure of attending Mythic Worlds (formerly known as FaerieCon), here in Seattle. I happened upon a class being taught by Orion Foxwood. This Southern gentleman, with his self described "funny beard" was definitely speaking to my heart. After the class was over, I rushed downstairs to pick up copies of his three books, the first of which is The Candle and the Crossroads.

This book was written to pass on the ways of magic and healing, that was once only an oral tradition that Mr. Foxwood learned first hand growing up in rural Appalachia.

A few of the techniques discussed in the book include:

Conjuring – Conjuring includes working with the Spirit (God, the Maker, Source), personal spirits such as ancestors and crossroads beings; calling upon them for doing magical work.

Growing Your Spirit – The spirit is our root. Growing your spirit can bring you into alignment. Chapter 5 includes a checklist of sorts and provides guidance for to grow your spirit in areas where you may be falling short. "The more spirit we have, the more power we have!"
Root Doctoring - Using herbs, roots, stones, and etc. for magic, clearing, cleansing, and blessing the root (spirit) of a person. This helps the physical body follow the flow of the spirit and helps one move to a happier state.
Healing Work – Restoring or creating wellbeing in a person (or animal, plant, spirit), place, or thing.
Candle/Fire Magic – "Loading" candles with oils, herbs, nails, pins, rings, an earring, and saliva; calling in blessings through the conduit of flame.
Blessing and Cursing – Bringing in spiritual influences to assist a situation.

...and MUCH more.
The high quality paperback book measures 6" wide x 9" tall. It has 256 information packed pages. Mr. Foxwood's voice can be clearly heard as one turns each page. I found his family quotes and quips to be quite endearing.

"If ya step in somethin' and ya don't clean it off, you'll track that nasty stuff wherever you go. Ya gotta clean it off your feet, and your path, if you are going to make good things happen in your life." - Orion Foxwood's Mother, Betty Jean
Not only did I learn a lot about magical and spiritual techniques, I also felt a connection to the Appalachian community through the words written on the pages. The only disappointment came when I turned the very last page.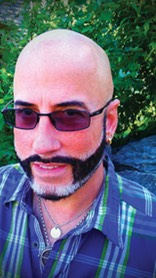 Orion Foxwood is a conjurer in the American southern folk tradition, a tradtional witch and Faery Seer. He is the founder of Foxwood Temple of the Old Religion in Maryland and co-founder of Conjure Crossroads and the annual Folk Magic Festival held in New Orleans and Conjure-Con. He was born and raised in the Shenandoah Valley in Virginia and is the author of The Tree of Enchantment and The Flame and the Cauldron, both are published by Weiser Books.
Note:  Images and bio for Mr. Foxwood provided by Weiser Books.